World Heritage Nominations – Training for Success Side Event
July 2017, Hiroshima, Japan - As 21 sites across the globe were confirmed as World Heritage Sites at the 41st Session of the World Heritage Committee in Krakow, Poland, UNITAR focused on the beginning of that process. UNITAR's July 8 Side Event, titled "Training for Success: Developing Complete World Heritage Nominations – Lessons Learned and Future Prospects," was successfully held at the Session, with some 80 participants from State Parties and interested organizations in attendance. The Side Event was jointly hosted by the UNESCO World Heritage Centre and the three World Heritage Advisory Bodies: ICCROM, ICOMOS, and IUCN.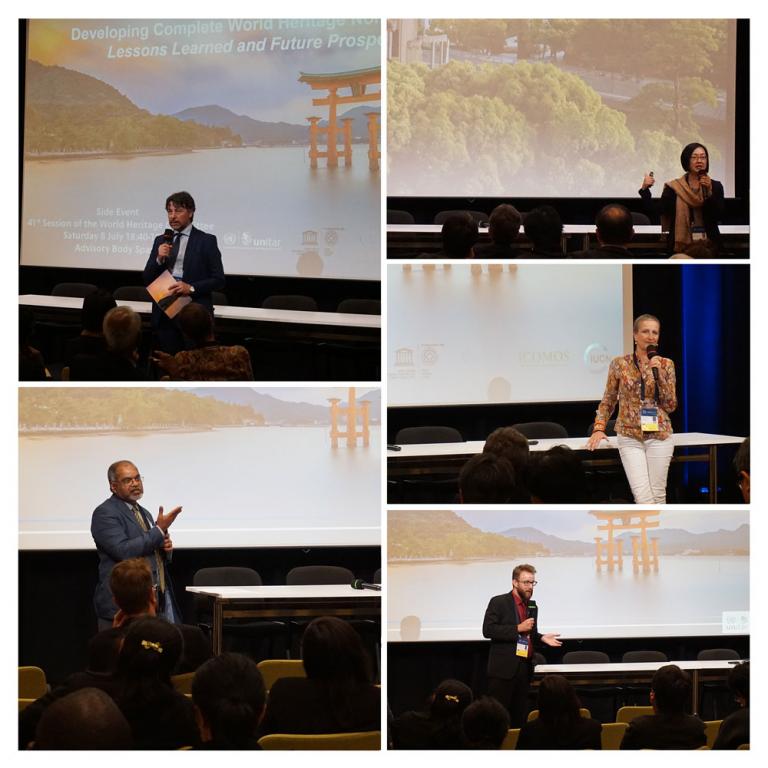 The speakers included:
Alessandro Balsamo, Nominations and Tentative Lists Manager, World Heritage Centre, UNESCO
Marie-Laure Lavenir, Director General, ICOMOS
Mihoko Kumamoto, Head, UNITAR Hiroshima Office
Gamini Wijiesuriya, Project Manager, ICCROM
Remco Van Merm, World Heritage Monitoring Officer, IUCN
The speakers provided valuable insight to the participants, emphasizing that training on making complete nominations is essential for their success and that there are many support options available – including UNITAR's programme – to state parties looking to nominate a site. The event explored the lessons learned through ICCROM's and UNITAR's nominations-focused training events, as well as the recently reviewed Upstream Process conducted by IUCN, ICOMOS and the Secretariat. Questions from the audience focused on targeting needs-based training for course participants, evaluation processes, and feedback on the impact of the training courses. 
About the UNITAR Training Programme
UNITAR has been training on World Heritage since 2003. The annual UNITAR World Heritage Nominations Training Series held over 5 days in Hiroshima, Japan, comprises a detailed examination of the World Heritage nomination process and requirements, utilising expert insight and experience, as well as exchanging know-how on best practices and case studies. Applications for the 2017 Cycle will open soon.
---
Photo: Speakers at the side event in Krakow, Poland.