8 November 2011, Geneva, Switzerland – As Thailand is still experiencing its worst flood in 50 years, UNOSAT and its partner Asian Disaster Preparedness Centre (ADPC), based in Bangkok, have been intensifying their efforts to monitor flood waters since the onset of the crisis. In line with its growing involvement in collaborative mapping and crowd sourcing, UNOSAT has facilitated the introduction in current crisis monitoring activities over Bangkok of a new application capable of using input from local volunteers to add useful information to satellite derived mapping.
Initially developed by AnsuR of Norway within the EU funded GEO-PICTURES project, the geo-photo app, named "Asign" enables accurate geo-referencing of photographs taken by volunteers connected to internet. The application has been customized for the needs of the United Nations and national disaster management teams. After some additional modifications, it has been made available to the general public to enable the collection of additional valuable information and visual material directly from the places impacted by the flood. This Android app automatically geo-locates photos, size them according to bandwidth and send them off to a web-server thanks to which the location of the photo is shown on a map, and the photo can be further assessed, shared with individuals and groups, even in high resolution if needed. Before Thailand, the tool had been used with success in Haiti, Pakistan and Nigeria.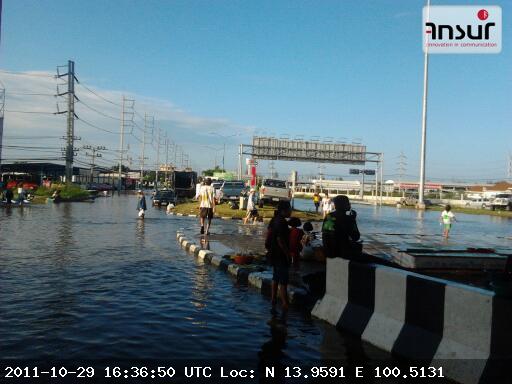 "The app for crowd-sourcing is definitely useful", said Peeranan Towashiraporn, senior project manager at ADPC. So far, over 300 photos have been uploaded, with more coming in every day as more volunteers become aware of the tool.  "It is a great way to promote co-ordination because up-to-date visuals throughout the city are available for decision makers in near real time. It also helps us validate our own satellite imagery analysis", said Einar Bjorgo at UNOSAT.
For more information and to download the app, please see
http://www.unitar.org/unosat/node/22/1429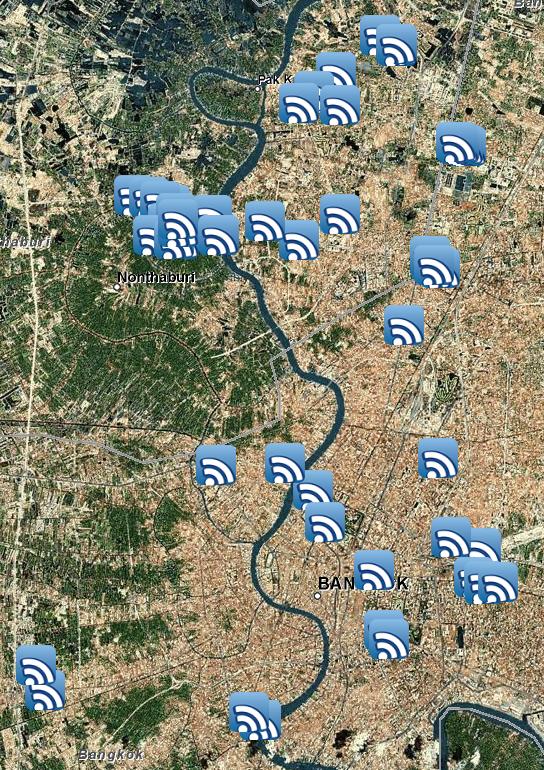 Photos: Photos taken from Bangkok city dwellers and volunteers are geo-located and shown on a map web-server from which they can be accessed in near real time.