UNOSAT Supports Humanitarian Response After Dam Collapsed in Lao PDR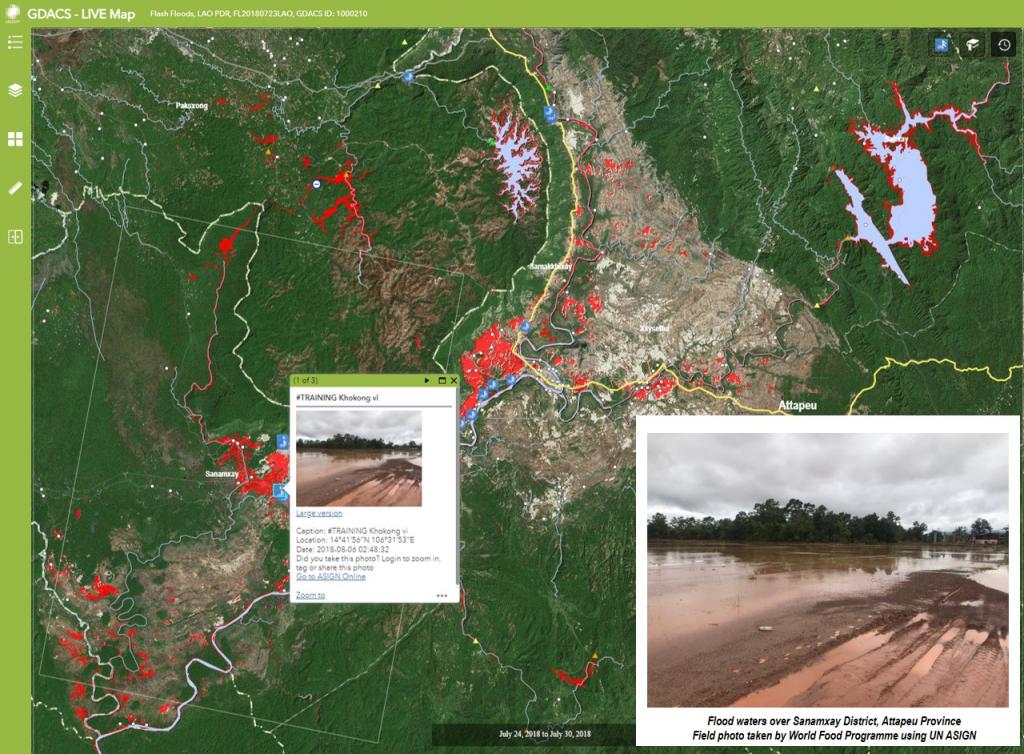 03 August 2018 Geneva, Switzerland - In the middle of the monsoon season, Lao People's Democratic Republic is facing floods caused by heavy rains. The combination of Tropical Storm Son Tinh and unusual rains caused the Xe-Pian Xe-Namnoy hydroelectric dam to collapse on the evening of 23 July 2018, resulting in flash floods over Sanamxay District, Attapeu Province, affecting more than 16,000 people (according to Department of Social Welfare, and AHA Centre ICLT).
For the second consecutive year, the World Food Programme (WFP) requested UNOSAT's Rapid Mapping Service to provide satellite imagery analysis and support the humanitarian response in Lao PDR.  On 24 July 2018, only two hours after the reception of the request, UNOSAT activated the International Charter Space and Major Disasters on behalf of WFP.  On the same date, the first post-event radar image was collected showing the effects caused by the collapse of the dam.
UNOSAT's analysis revealed an increase in inundated areas and villages located downstream of Saddle Dam D and a reduction of the water levels and size of the reservoir controlled by the dam. Subsequent emergency response products were provided to monitor the evolution of detected flood water extent and the potential impact on villages.
All results were shared in a timely manner with the government of Lao PDR through the United Nations Economic and Social Commission for Asia and the Pacific (UNESCAP), the United Nations Office for the Coordination of Humanitarian Affairs (UNOCHA), the International Organization for Migration (IOM), the Pacific Disaster Center (PDC), Asian Disaster Preparedness Center (ADPC) and WFP. Through the Lao PDR National Focal Point, the Regional Space Applications Programme for Sustainable Development of UNESCAP gathered ever-evolving country information needs and ensured effective distribution of products. The National Focal Point was grateful for the satellite imagery derived insights over the areas affected by water floods.
UNOSAT also facilitated coordination of satellite-mapping activities through the Global Disaster Alert and Coordination System (GDACS) to avoid duplication and achieve maximum geographic coverage of the area of interest. Cooperation with the CIMA Research Foundation, Deltares, the European Commission's Joint Research Centre (JRC), the Asian Disaster Preparedness Center (ADPC), the Luxembourg Institute of Science and Technology (LIST) and the Geo-Informatics and Space Technology Development Agency (GISTDA) of Thailand was instrumental for the production of timely and reliable products.
A live map integrating various types of data (including UN-ASIGN field photos) and the most up to date satellite analysis has been made available to further support humanitarian efforts. Additional products will be produced in the near future to ensure proper follow-up of the situation and support disaster recovery.
---
Related links
---
Image 1 is a screenshot of the live map, field photo taken by WFP using UN-ASIGN