UNOSAT Report on Damage to Cultural Heritage Sites in Syria calls for Scaled up Protection Efforts
23 December 2014, Geneva, Switzerland - UNITAR today highlighted a new and comprehensive report by its UNOSAT programme that has revealed large scale destruction and damage to cultural heritage sites in Syria, including UNESCO World Heritage Properties. The study, carried out by experts on Syria cultural heritage and UNOSAT satellite image analysts, reviewed 18 different areas inside which a total of 290 locations were found to be directly affected by the ongoing conflict. UNOSAT based its analysis on a combination of commercially available very high resolution satellite images, UNESCO reports, information from archaeological experts on Syria as well as traditional and social media.
"At this point in time we found it important to issue a comprehensive status report to alert decision-makers and the public of deterioration to many of the rich cultural heritage areas in Syria. The wide-spread destruction and damage we have observed call for increased protection efforts and support to the ongoing work of UNESCO", says Einar Bjorgo, UNOSAT's manager.
Satellite imagery is often one of a few sources for objective information over conflict-areas. Few independent experts have access to these areas due to ongoing fighting. The imagery taken from space therefore brings timely evidence of what is happening and covers large areas to ensure as comprehensive a study as possible.
"Satellite technology and images such as those analysed by UNOSAT in this report are essential to assess the state of the cultural heritage in Syria and Iraq", says Alfredo Peréz de Armiñán, Assistant Director-General for Culture at UNESCO in the foreword to the report. "UNESCO […] welcomes this report, which will help it fulfil its mandate for the protection of the cultural heritage, and commends UNOSAT on this timely initiative, paving the way for similar collaborative efforts across the UN system. "
A dedicated web-site has been set up where the report can be downloaded in full, or by chapter, and various imagery-samples for media illustrating the observed damage are available for use.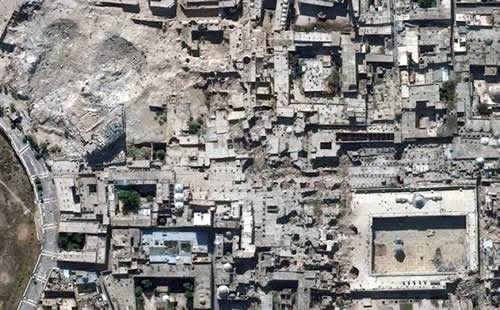 Old City of Aleppo: Multiple historical sites can be seen destroyed in this image as of 22 October 2014, such as the Carlton hotel, where craters are present. Other damaged locations include the Great Umayd Mosque in the lower right corner of the image. The Great Mosque's minaret has been destroyed, in addition to severe damages to the wall and courtyard. Details can be found in the Aleppo section of UNOSAT Syria Cultural Heritage Sites Report (click on the image to enlarge).
---
Related links
Press release (PDF, 263 KB)
---
Image copyright: US Department of State, Humanitarian Information Unit, NextView License (DigitalGlobe)
Satellite image analysis by UNITAR-UNOSAT