DIHAD is the largest event in the Arab region focusing on humanitarian efforts. The conference eight edition held in Dubai at the end of March 2011 focused on new technology for humanitarian aid and development. Its Scientific Board called on UNOSAT to chair the session on satellite technology, which featured speakers from Google, the European Commission Joint Research Centre and European Space Imaging a leading company based in Germany providing satellite imagery.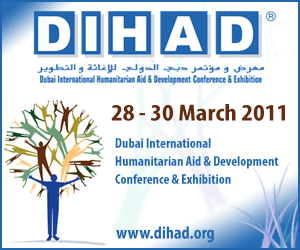 The event gathered all principal UN agencies and NGOs active in humanitarian relief as well as a number of leading figures of humanitarian policy development and various thinkers from the academic world. This year's theme, 'New Technologies: How they Impact Humanitarian and Development Operations', discussed how new technologies affect and change the way humanitarian and development organizations operate. HRH Princess Haya spoke at the opening ceremony.
"There are exciting developments that now allow aid agencies to communicate and deliver services far more effectively than in the past both in humanitarian crises and development," she stated.
The session on satellite technology discussed the increasing role of professional satellite derived analysis in relief coordination and decision making and how this has become a permanent part of humanitarian operations. In addressing the conference, UNOSAT Manager Francesco Pisano said that "satellite derived geo-information is a driver of innovation in the humanitarian arena and an enabler for change for all agencies involved in helping those in greater need". But he also warned that "innovation is not only about technology" and that "many agencies are at odds with new technology because they do not have the processes to ingest new techniques that are simply about solving problems more efficiently". The session illustrated also the link between expert satellite-derived analysis and emerging crowd and community-based mapping initiatives that contribute positively to making baseline mapping available in crisis areas where this information is generally lacking. Google's speaker, France Lamy, gave several examples of how Google's crowd sourced baseline mapping, realised through the MapMaker initiative, has contributed concretely to the work of UNOSAT in several crises.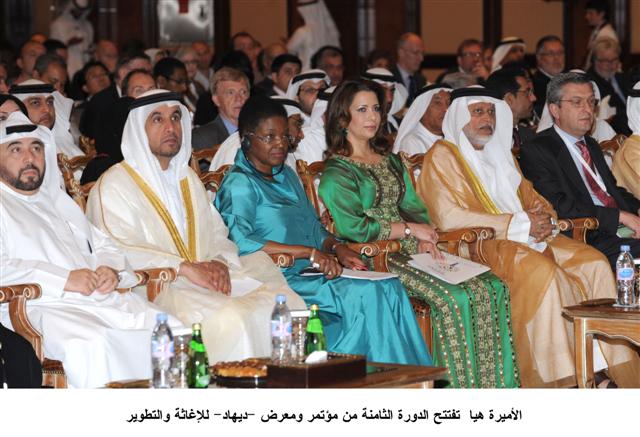 Photo: HRH Princess Haya attending the opening of DIHAD together with Lady Valerie Amos, UN Emergency Relief Coordinator and Under-Secretary-General for Humanitarian Affairs