January 2012, Geneva, Switzerland – After over one year of positive research and experimental tests, the UNOSAT team has acquired its first Mini-UAV in late 2011 and placed orders for a second unit in 2012, while a third unit is planned for 2013.
Mini-UAV, or "unmanned aerial vehicle", are very light and easy-to-fly electric planes carrying digital cameras and able to fly for a limited time in the vicinity of the operator to collect images over a small area. Most of these vehicles are made from lightweight, flexible plastic or foam and weighs less than a kilogram with wing span of 80 cm.
Very small UAVs like the ones in use at UNOSAT are becoming rapidly popular in advanced civil mapping and aerial surveying in areas like agriculture, forestry and environment protection, event monitoring and more. UNOSAT experts have been testing small automated flying vehicles since 2010 during a research programme aimed at verifying their potential in humanitarian rapid mapping and damage assessment. UNOSAT has identified two suitable types of vehicles for the time being.

These vehicles are very different from larger drones used by security and armed forces. They are designed for civil and emergency rescue operations only. Further applications are being studied, especially those relating to the use of "smarms of flying robots". In the near future these vehicles may be used to establish telecommunications and internet in disaster areas. For example, a fleet of vehicles placed above a disaster zone each carrying a wireless signal transmitter would create a local emergency Wi-Fi spot to enable communication between rescuers.
The first unit acquired by the team in Geneva is the Swinglet CAM, manufactured in Switzerland by Sensefly and already sold in over 10 countries worldwide. Swinglet is capable of flying in fully automatic mode over any earth surface and takes high-resolution images using small airborne digital cameras. The software included with the product is particularly agile and meets the requirements of the UNOSAT team in difficult areas of deployment such as areas hit by natural disasters. These light UAVs can be deployed within minutes and can stay airborne for 30 minutes at a time. It will not stray far, and it is pre-programmed to land before wandering off its designated course.
The legal framework for very small Unmanned Aerial Systems (UAS) or Vehicles (UAV) is currently evolving in most countries but in most many countries they can be operated without special permission within line of sight and below 400 feet or 150 metres above ground level.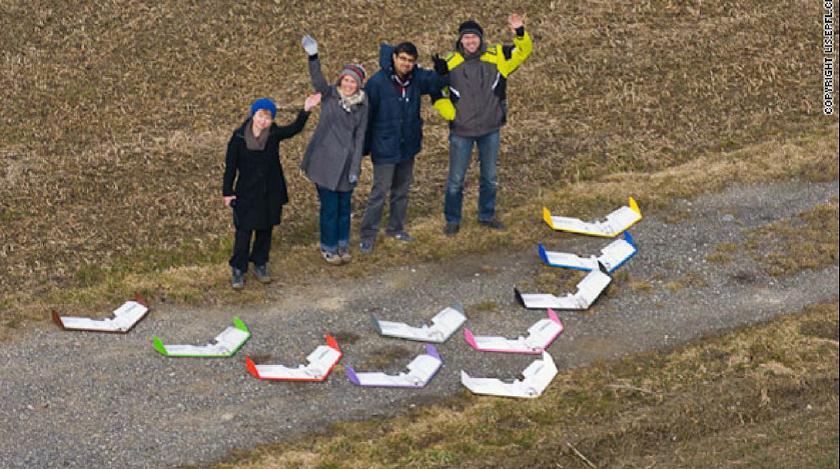 Watch a Reuters TV feature on Swinglet CAM
Watch a EPFL video on YouTube
Photos courtesy of Sensefly , Switzerland, and Ecole Politechnique de Lausanne (EPFL) , Switzerland