UNOSAT GIS for Disaster Management Course Ensures Practitioners Equipped with Key Skills
29 February - 18 March 2016, Geneva, Switzerland – UNOSAT successfully graduates 15 Geographic Information Systems (GIS) professionals who undertook the Master in GIS Course on Geo-Information in Disaster Situations offered by UNOSAT in collaboration with the University of Copenhagen. This is the sixth edition of the training specifically designed for master level students and GIS professionals who are keen to effectively utilize geospatial tools for emergency response mapping.
The course was focused on providing insight into various tools available in GIS for rapid response mapping. Focus was given to GIS concepts and their integration in disaster situations. A central part of the course were the real case scenarios which involved collecting information and GIS data from web sources, preparing, analyzing and creating situation maps to support emergency response.
The course was attended by six Master for Disaster Management (MDMA) students from the University of Copenhagen and nine GIS professionals from institutions including Mercy Corps Nepal, PAX for Peace, Rescue Global, the University of the Philippines, the United Nations Missions in Sudan (UNMIS), the University of Salzburg, the United States Agency for International Development (USAID), and the World Health Organization (WHO). The 15 participants came from 13 different countries. The diverse blend of the course participants from both the academic and professional spheres facilitated the sharing of creative and innovative experiences in the applications of GIS tools in disasters.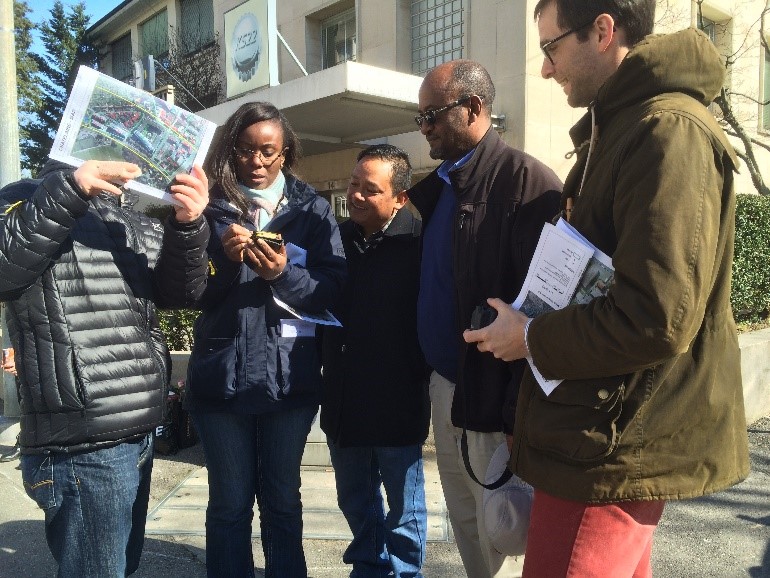 Specific emphasis was put on the powerful use of satellite imagery for preparedness and emergency response. During the training, participants were engaged in hands-on experience including field data collection tools such as Unmanned Aerial Vehicles (UAVs), Global Positioning System (GPS) receivers and smart phone applications (UN-ASIGN).
For practical sessions, participants worked with real case datasets from past disasters. The GIS laboratory simulation exercises were very useful for confidence building of the participants' understanding of GIS uses and limitations in emergency response. At the end of the course, participants developed situation maps for damage assessment as part of their exams. Throughout the course, participants received full support from UNOSAT experts who were always available to attend to the participant's learning needs.
The course feedback was highly positive, with 75% of participants indicating that the content of the course was relevant to their work and 88% of participants indicating the training met their expectations in terms of what they expected to learn. UNOSAT will continue its training collaboration with the University of Copenhagen and looks forward to the delivery of the seventh edition of the course early in 2017.
---
Related links
Geo Information in Disaster Situations
University of Copenhagen's Master of Disaster Management Programme (MDMA)
---
Photos: The course participants together with UNOSAT training experts Rohini Swaminathan and Luca Dell'Oro who delivered the training