14 November 2013, Bangkok, Thailand - Since October 2013 a UNOSAT office is active within the Information and Communications Technology and Disaster Reduction Division at ESCAP in Bangkok. The development comes just 7 months after UNITAR and ESCAP signed a partnership agreement committing to working together for the Asia Pacific region in the areas of satellite applications, disaster management and capacity development at national level.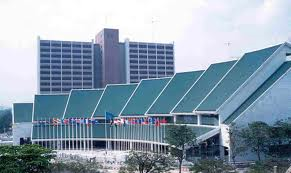 The UN Economic and Social Commission for Asia and the Pacific has 53 member States and is one of the five regional commissions of the United Nations. It was established in 1947 to encourage economic cooperation among its member states. The UNOSAT office hosted at ESCAP has three main responsibilities: operationalizing the partnership with ESCAP, providing OCHA in the region with technical support on humanitarian rapid mapping, and assisting UNOSAT capacity development programming and delivery in countries in the region. Bangkok is also a strategic location for UNOSAT because of the presence of important partners like ADPC, teh Asia Disaster Preparedness Centre, and AIT, Asian Institute of Tecnology, and a number of UN agencies' regional offices, among which UNISDR.
Dr. Shamika Sirimanne, Director of ESCAP Information and Communications Technology and Disaster Risk Reduction Division expressed her appreciation to UNITAR and UNOSAT and added: "This is very exciting indeed and will help achieve better and more comprehensive access to and use of space-related services, as well as to benefit from geospatial information for effective disaster risk reduction".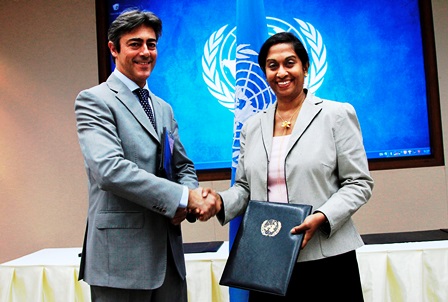 UNOSAT began investing resources in the region in 2010. Early successes and concrete results helped the Programme attract additional support and financial resources. The partnership with ESCAP started in 2011 and was formalised in 2013 as a strategic anchor for the action of the UN system in Asia and the Pacific. The Manager of UNOSAT, Einar Bjorgo, explains:  "This partnership is important to us because we want to create a hub in this thriving part of the world. ESCAP is the UN hub in Asia-Pacific so it was natural that our home away from home be here in Bangkok. We are thankful to the Information and Communications Technology and Disaster Risk Reduction Division for housing our office and we look forward to working with them as well with our colleagues from OCHA and ISDR now that we are office neighbours".

-------------------------------------------------------------------------------------------
Photos: Above the ESCAP coumpound in Bangkok where the new UNOSAT office is housed. Below: Dr S. Sirimanne (right) of ESCAP and F. Pisano of UNITAR exchange copies of the MoU in February 2013.