UNOSAT Equips Disaster Management Professionals with Cutting Edge GIS Tools for Emergency Response
30 March 2017, Geneva, Switzerland – 10 disaster management professionals successfully completed the Master in GIS Course on Geo-Information in Disaster Situations offered by UNOSAT in collaboration with the University of Copenhagen's Master of Disaster Management. This was the seventh edition of the highly celebrated master level GIS training specifically designed to provide disaster management professionals with cutting edge GIS tools for emergency response. Since its inception in 2011, the training has benefited a global audience of over a hundred disaster management professionals.

During the training, specific emphasis was put on the powerful use of satellite imagery for preparedness and emergency response. For practical sessions, participants worked with real case datasets from past disasters where they were expected to collect GIS data from web sources, prepare, analyse and create situation maps to support emergency response. During the data collection field exercise, students did a simulation of using the Unmanned Aerial Vehicle (UAV), GPS and UN-ASIGN (UNOSAT's crowdsourcing App).
The course featured guest speakers from the Geographic Information Visualization and Analysis Unit of the University of Zurich and The National Science and Technology Center for Disaster Reduction of Taipei. We also invited GIS end-user experts from the United Nations and International Organizations (including UNOCHA, IFRC and UNDAC) who engaged the students in a round table discussion to address the ways geospatial technology extended the ability to integrate and distribute satellite imagery data for situation/rapid assessment and analysis during and after a disaster. The round table discussion highlighted the various ways organisations working in emergency response used geospatial analysis to support humanitarian operations and, the benefits and limitation of using geospatial information for emergency response. The session ended with discussions on the best strategies and practices for emergency response.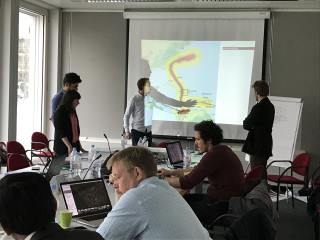 Altogether, the course was attended by Master for Disaster Management (MDMa) students from the University of Copenhagen and disaster management professionals from institutions including the Swiss Red Cross and the Amazon Conservation Association. The diverse blend of the course participants from both the academic and professional spheres facilitated the sharing of creative and innovative experiences in the applications of GIS tools in disasters and presented an opportunity for the students to network with disaster management experts already working in the field.
As part of the final exam, the students developed (individual and group) situation maps for damage assessment based on real case datasets from past disasters. The course gives 5 European Credit Transfer and Accumulation System (ECTS) credits for the Master in Disaster Management Programme. Students are also awarded a 1 year ArcGIS license from ESRI to support the application of the knowledge and skills gained from the course to their work.
Overall, the course feedback was highly positive, with 80% of participants indicating that they would use the knowledge and skills acquired from the training. They especially emphasised the high expertise demonstrated by the trainers.
---
​Related Link
---
Photo 1: Students during the field data collection exercises with UNOSAT's expert Mr. Khaled Mashfiq explaining data collection procedures using the UN-ASIGN App and the UAV
Photo 2: Students making a presentation of the assignment during the final course evaluation