March 2013, Geneva, Switzerland - The Executive Director of UNITAR has appointed Dr. Einar Bjorgo of Norway as UNOSAT Manager after a selection process involving internal and external candidates. Bjorgo, who was serving as Senior Officer at UNITAR had been in charge of UNOSAT operations under the previous management.
Bjorgo received his PhD in Geophysics from the University of Bergen, Norway, in 1999 on applications of very high resolution satellite imagery in support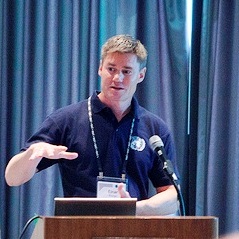 of refugee relief operations. He holds a Master of Science in Meteorology (Climate Science) and a Bachelor in Mechanical Engineering from the University of California San Diego.  He started working for the United Nations in 1999 when he joined the UN High Commissioner for Refugees to work on the integration of new solutions into UNHCR operations, including the use of GIS, GPS and satellite imagery.
Bjorgo joined the UNOSAT team in 2002 when he was a central element in the development of the Humanitarian Rapid Mapping service and later become in charge of all operational activities at UNOSAT. Apart from the operational mapping side, Bjorgo was the initiator of capacity development and disaster risk reduction activities in Asia and East Africa. Since 2010 he had served as deputy to the Manager.
The recent visit of the Secretary-General to the UNOSAT team set the tone of the new management phase at UNOSAT, which is now a recognised centre of excellence within the United Nations system in the areas of satellite analysis and geospatial information. While the visit of the Secretary-General confirms this recognition and is a reward to the staff, it also shows the gradual gain of importance of satellite derived information for the work of the UN. UNOSAT has spearheaded innovation in satellite analysis since its creation in 2000.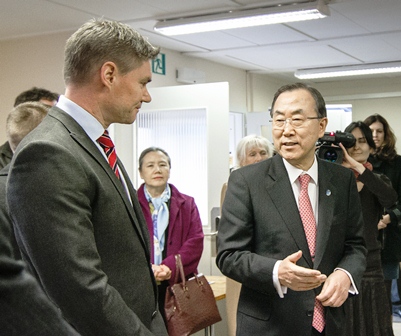 In this connection, Bjorgo said, "it is indeed a very interesting time in the history of UNOSAT and I am most honoured to lead this team of dedicated professionals. UNOSAT is unique and a great example of a modern, efficient UN programme. With over 11 years of successful operational activities, UNOSAT is now embarking on integrating new solutions and diversifying its thematic coverage."
This change of management coincides with other improvements in the structure of UNITAR where Francesco Pisano, who managed UNOSAT from 2008 to 2012, is now leading the Department of Research, Technology Applications and Knowledge Systems, of which UNOSAT is part. The Manager of UNOSAT reports to the Department Director in a way to ensure strategic coherence. Pisano said, "change is always an opportunity for improvement. Together with Einar and the rest of the team we have taken UNOSAT to the levels of excellence where it stands today. We are going to continue to work together and do our best to ensure the UN has a competitive satellite analysis service able to respond to all requests."
Photos UNITAR/UNOSAT Cedric Serbat and Esri. All rights reserved.