January 26, Geneva, Switzerland – UNOSAT took delivery today of its second UAV in a little over one month, this time a so-called quadrocopter. This latest model will be used to diversify UNOSAT's mini-UAV fleet and to complement the Programme's local mapping capacity. The quadrocopter is particularly suitable for close-up assessments and inspections and it is able to acquire aerial imagery and videos over the same location for a given period of time. The UAV, called md4-200, is produced by Microdrones GmbH of Germany.

UNOSAT is conducting internal testing on the UAV in areas such as disaster risk reduction, disaster preparedness, emergency response, environmental assessments, digital elevation model baseline data creation and more. This capacity will also benefit UN agencies in the field and other partners. UNOSAT can deploy its UAVs with trained personnel to fly them and, more importantly, to carry out aerial photo processing directly in the field for detailed mosaic datasets down to 5 cm resolution, with an average coverage for a 30 minutes flight of about 1 km square.
The quadrocopter can be pre-programmed for fully automated autopilot flight, as well as manually directed. "We are particularly excited to see how our UAVs perform in the field in various situations such as environmental assessments, where access to detailed imagery is fundamental" says Wendi Pedersen, analyst at UNOSAT and one of the team of UNOSAT experts trained to operate the quadrocopter.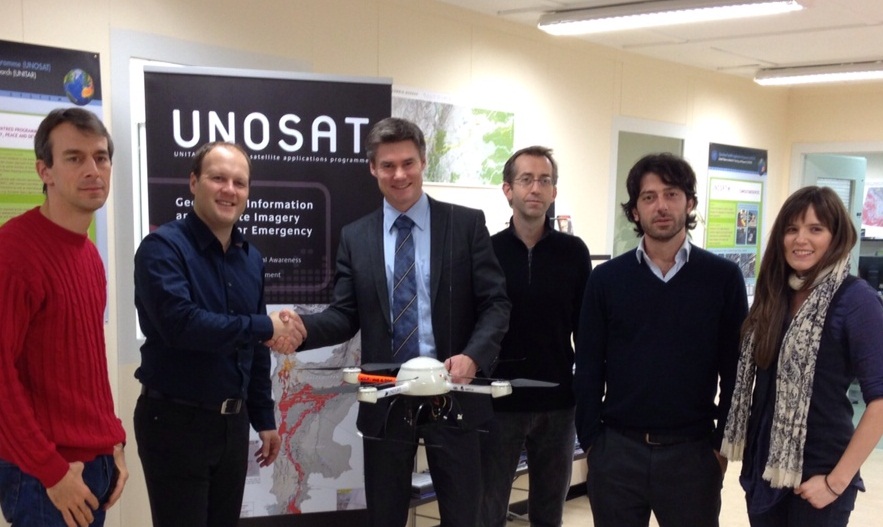 The acquisition by UNOSAT of mini-UAVs is part of a strategic data integration plan which includes several other innovations in use at UNOSAT such as web-mapping and geo-tagging. For example, when UAV photo upload is needed in near real time, UNOSAT is implementing the GEO-PICTURES solution using ASIGN, a global image communication system for satellite and wireless links developed by AnsuR.
Photos: The new UAV in action; Einar Bjorgo of UNOSAT (centre right takes delivery of the new UAV at UNOSAT Offices in Geneva from Microdrones GmbH surrounded by a few UNOSAT specialists trained in UAV deployment).