UNITAR Roundtable explores World Heritage and the SDGs
2 April 2018, Hiroshima, Japan - The United Nations Institute for Training and Research (UNITAR) has successfully concluded the UNITAR World Heritage Training Series Alumni Roundtable, which took place in Hiroshima, Japan between 19 and 23 March 2018. The UNITAR World Heritage Training Series was first established in 2003 and has trained over 400 people from 60 countries. This Roundtable brought together eleven alumni and Resource Persons, including five women, from ten different countries, to discuss lessons learned from the Series, and the intersection of World Heritage and the Sustainable Development Goals (SDGs).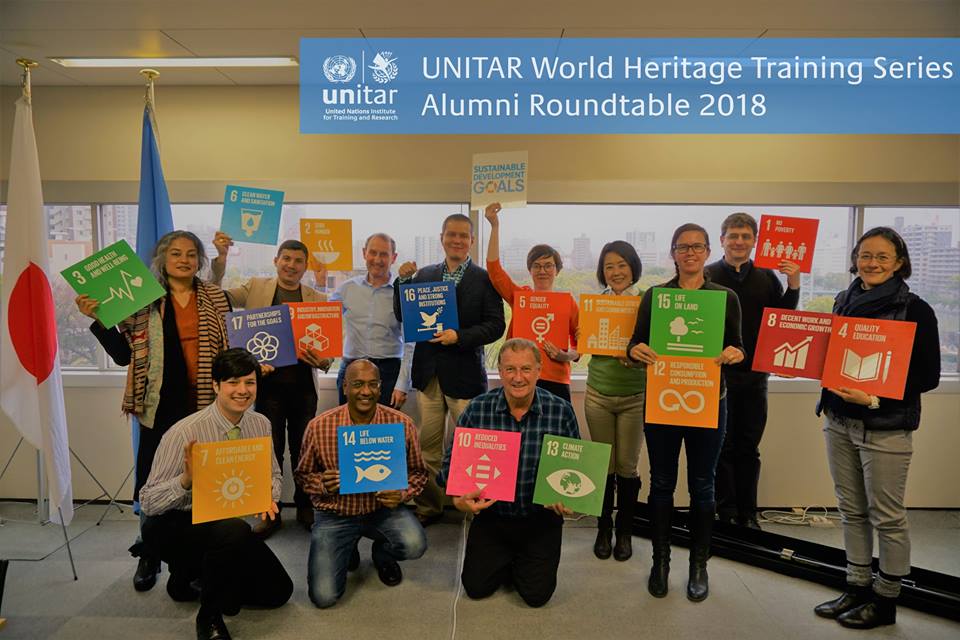 The Resouce Persons for the Roundtable were Duncan Marshall and Leticia Leitao. Alumni participants included:
Australia - Angie Stringer, Director, Cultural Values and Planning, NSW National Parks and Wildlife Service
India - Gurmeet Rai, Vice-President ICOMOS India
Iraq - Qahtan Al Abeed, Director, Basrah Antiquities and Heritage
Japan - Yumi Isabelle Naito Akieda, Board Member, ICOMOS Japan
Nepal - Kai Weise, President, ICOMOS Nepal
New Zealand - Paul Mahoney, Senior Cultural Heritage Advisor, Department of Conservation
Philippines - Miko Liwanag, Trustee, ICOMOS Philippines
Singapore - Jean Wee, Director, Preservation of Sites and Monuments, National Heritage Board
South Africa - Mags Pillay, Director, Cradle of Humankind
The participants delivered presentations about their experiences from the training series and explored future training needs, which helped inform the group exercises and discussions around the lessons learned and next steps for the Series. The Roundtable then moved to focus on how World Heritage connects to Sustainable Development, how it can contribute to the various SDGs, and how to incorporate sustainable development considerations into conservation and management of the World Heritage Sites. Participants presented on sustainable development in relation to World Heritage sites that they are currently working with. An intensive group exercise then focused on exploring a framework for linking SDGs to World Heritage sites within case studies. 
After three days in Hiroshima City, next to the World Heritage Genbaku Dome site, the group then moved to Miyajima Island, where they undertook a study tour of the Island and visited the World Heritage Site Itsukushima Shrine. One of the participants, Gurmeet Rai from ICOMOS India, commented: "Based on the example of Itsukushima Shrine and how it approaches tourists, I would like to learn how to connect the proposed World Heritage sites and the promotion of tourism in India."
---
Related link
For more information, please visit: www.unitar.org/world-heritage
---
Photo: Participants in the UNITAR World Heritage Training Series Alumni Roundtable