UNITAR Training Workshop on International Human Rights Protection and Promotion in Geneva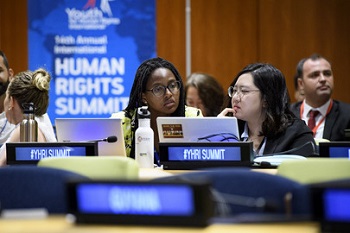 22-23 February 2018, Geneva, Switzerland - UNITAR delivered a successful Core Diplomatic Training entitled "International Human Rights Protection and Promotion" for diplomats, international civil servants, government officials and private sector specialists in Geneva. This workshop took place within the long tradition of Core Diplomatic Trainings which UNITAR' Multilateral Diplomacy Programme organizes in Geneva, mainly targeting the diplomatic community. Four other training workshops will be delivered this year as part of the 3rd Edition of the Executive Diploma in Diplomatic Practice, including topics such as Economic Diplomacy and Leadership Skills.
The first day of the workshop in Geneva focused primarily on familiarizing participants with the international human rights normative framework, during which the training expert, Mr. Alain Sigg, provided an historical overview on the birth of Humanitarian and Refugee Law. The following day was dedicated to strengthening participants' knowledge of both the work of the Human Rights Council and the functioning of its primary mechanism, the Universal Periodic Review (UPR). For this part of the workshop, Hans Fridlund – UPR Info's Programme Manager – delivered a session on the Universal Periodic Review and explained its State-driven process. In the afternoon, Ms. Elodie Tranchez and Ms. Gianna Alessandra Sanchez Moretti – both OHCHR Human Rights experts– focused on identifying how the treaties operate, with the ultimate aim being better able to understand Human Rights Council mechanisms.
In providing feedback on the content of the workshops, participants' feedback was extremely positive, with 92% stating that they would recommend the course to a colleague and a further 100% responding that the workshop was very useful overall. The next workshop to take place is a course on Diplomatic Protocol and Etiquette, taking place in Geneva on the 22nd and 23rd March 2018.
---
Photo: UN Photo/Manuel Elias