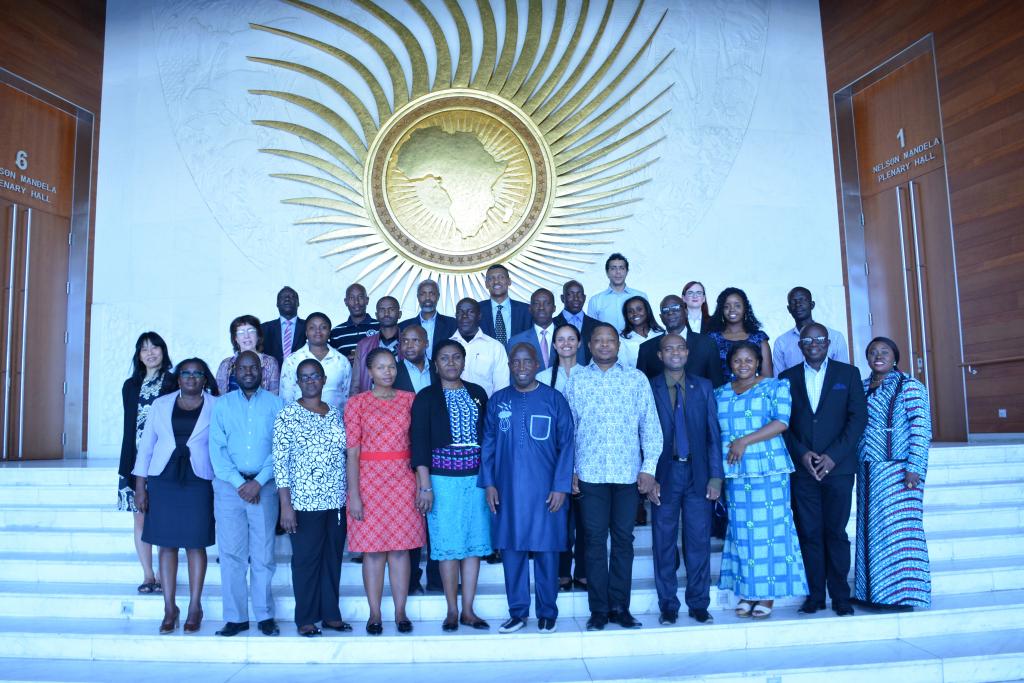 "I am going from here with the hope that we can make a change on the continent.  We request UNITAR continue to build a critical mass in this vital area."
     - Comment from a participating official at the closing
Officials visiting the African Union Headquarters
February 2017, Addis Ababa: The UNITAR Regional Programme to Enhance Conflict Prevention and Peacemaking in Africa, provided advanced training in conflict analysis, prevention and resolution to thirty-one senior and mid-level officials from Offices of Presidents, Ministries of Foreign Affairs, staff from the African Union, sub-regional organizations, from UN and AU peace missions across the continent, and from civil society.
The regional training programme, the fourteenth at the continental level, was designed to address African challenges and priorities in the prevention and sustainable resolution of conflict. Senior African scholars and practitioners including a Special Representative of the Secretary General, the Chief of Staff of the Office of the Special Envoy on Women, Peace and Security of the Chairperson of the African Union Commission, the Acting Head of the AU Peace and Security Department, and a Programme Adviser on governance and peacebuilding from the United Nations Development Programme were among those invited to serve as resource persons.
The participating officials took part in practical exercises and simulations, analyzed cases and engaged in discussions and briefing sessions on mediation, reconciliation and governance. A major focus of the training was on addressing root causes of conflict, analyzing and understanding the concerns of the parties, forging mutually-beneficial options, and seeking to build inclusive processes to contribute to sound governance and sustainable peace.
At the concluding Participants' Forum on Conflict Prevention and Peacemaking in Africa, officials discussed concrete steps they would take as a result of the training. They also pointed out the need to influence and train more officials in this mutually-beneficial negotiation and mediation methodology to help contribute to the constructive prevention and resolution of conflict on the continent.
The participating officials and the Institute are grateful to the Governments of China, Turkey, and to the Ministry for Foreign Affairs of Finland, the Ministry of Foreign Affairs of Norway, and the Ministry for Foreign Affairs of Sweden for their contributions that made possible this intensive training programme to enhance key capacities on the continent.
Participating officials engage in dialogue with Dr. Admore Kambudzi
Acting Director of the African Union Peace and Security Department