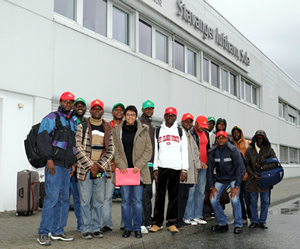 UNITAR - Rivers State Sustainable Development Agency (RSSDA) partnership has come to fruition with the signing of a Special Purpose Grant agreement (SPG) and subsequently the selection of credible candidates from all the 23 Local Government Areas in Rivers State for the UNITAR/RKK Technical Skills Training in Norway and Namibia.
This programme was conceived as a part of efforts to tackle the high level of youth unemployment in the state.  The goal of this programme is to provide a technical and vocational training program with internationally recognized certifications that will give the Rivers State youth a qualitative advantage in the employable workforce in the oil and gas industry and elsewhere in the world.
The selection process was a rigorous exercise indeed - 3 phased first an Aptitude test – 70%, Alternative to practical – 15% and finally Oral interview – 15% grand total 100%.  The skills training are in the following fields: Automation - Norway, Welding - Namibia, Instrumentation - Namibia, Drilling – Namibia. The entire process was expensive, tedious and demanding but it was worthwhile with the underlying principle of equity and fair play.
After a send forth ceremony with the Governor His Excellency Rt.Hon Chubuike Rotimi Amaechi and the head of UNITAR Port Harcourt Project Office (PHPO), Dr Larry Boms in attendance, the first batch of successful candidates arrived Norway on Sunday the 14th of November 2010 and have since commenced studies.