UNITAR Launches a New Online Platform for Diplomatic Training Alumni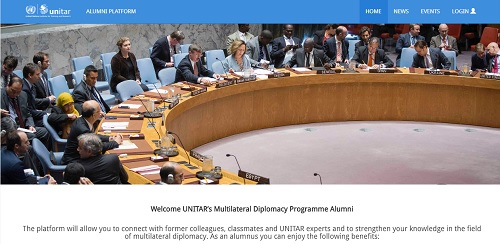 25 September 2017, Geneva, Switzerland - Diplomacy is a multidisciplinary and ever-evolving field, where it is sometimes hard to keep track of new developments and might be instead easy to lose important contacts and opportunities. Keeping in touch with former classmates and trainers, discovering opportunities for self-improvement and being part of a network of talented professional is thus the key to a successful career in this domain.
To help diplomacy professionals and students do so, UNITAR has developed its own, online Alumni Platform, open to all participants of Multilateral Diplomacy Programme activities. Through this Platform, participants will be able to remain in touch with former classmates and trainers, keep track of recent events in the field of global politics and news from the United Nations, and directly access the Alumni Directory to connect with other talented professionals holding akin interests or potential partners for ventures. Privacy is respected, however, as the mode of contact provided is through email addresses which are only available if the users choose to make them so. Additionally, it also possible to link the Alumni Platform account with one's LinkedIn, Facebook and Twitter profile, so to raise its visibility and increase the opportunities for interaction with other users.
Moreover, and perhaps more importantly, registered alumni will be able to access the latest publications on diplomacy and take part in webinars, conferences and e-learning courses free-of-charge, and also benefit from an exclusive 25 per cent discount on UNITAR's Multilateral Diplomacy Programme's courses.
To register free-of-charge, simply follow the instructions on the Alumni Platform