UNITAR Convenes Workshop for Leadership Development
15-17 May 2018, Geneva, Switzerland – The United Nations Institute for Training and Research (UNITAR) organized a three-day Leadership Workshop at the Palais des Nations. The workshop was part of UNITAR's online course on Collaborative Leadership and was facilitated by former UN Assistant Secretary-General and Executive Director of UNITAR, Ms. Sally Fegan-Wyles. It was the third edition in a series of yearly roll-outs. Fifteen diplomats and senior United Nations staff participated.
Mr. Alex Mejia, Programme Director, Social Development Programme, UNITAR opened the event and Mr. Nikhil Seth, UN Assistant Secretary-General and current Executive Director of UNITAR delivered a keynote address on the Sustainable Development Goals (SDGs), on how they came to be, on what it means to "leave no one behind", and on the need for collaboration, thus setting the stage for the subsequent workshop.
Leadership for sustainable development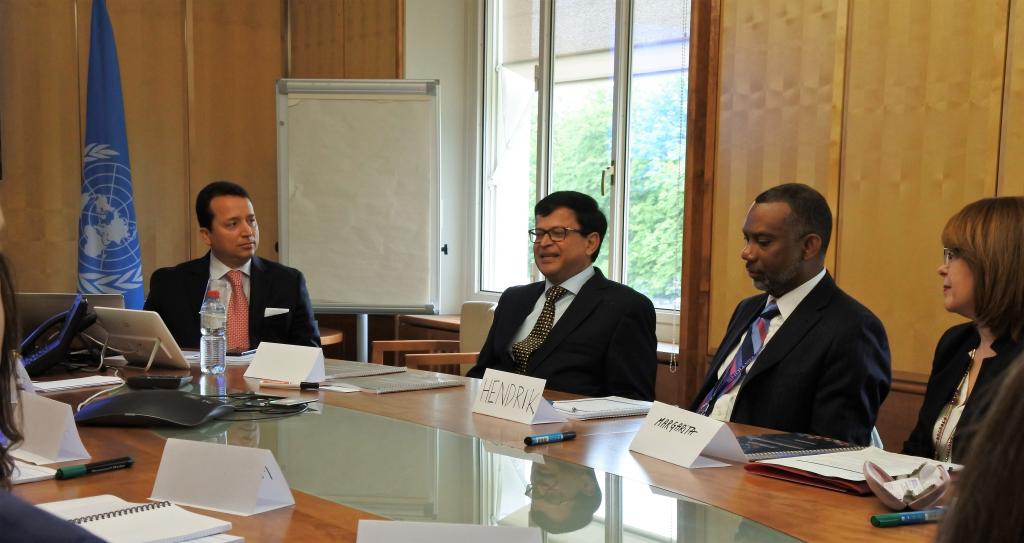 Today's challenges for attaining sustainable development are complicated, interconnected, and will need everyone to work towards creating a more sustainable future. Therefore leaders, rather than providing a solution, create opportunities for people to come together and generate their own answers. Leaders should not only bring people together and encourage creative participation, but should help people to embrace a relationship with uncertainty, chaos, and emergence. Working together to solve problems, even when values are shared, can be a difficult process. Leaders must understand that the tension, conflict and uncertainty that come from differences provide great potential for the creative emergence of viable solutions. To this end, the workshop combined lectures and practical exercises over a period of three half-days. It aimed at enhancing leadership skills and motivate participants to join forces with colleagues and partners to bring to fruition the SDGs.
Effective collaboration
The first two half-days of the workshop evolved around the issue of effective collaboration. While there are clear benefits from working with others to achieve results that cannot be achieved alone, effective collaboration can be challenging. The workshop aimed at helping leaders and decision-makers to recognise when collaboration is effective, understand some of the most common barriers to effective collaboration and enable them to put in place practical measures to overcome them. It also considered what contributes to making collaboration effective and suggested how organisations and individual managers can be effective collaborators. In a practical exercise during the first half-day, participants gained insight into active listening and subsequently applied techniques aimed at sharpening their respective skills. At the end of the first two days, participants were invited to draft a short action plan, leveraging the tools and concepts learned, to improve their collaborative leadership skills in concrete ways.
Leadership in the public sector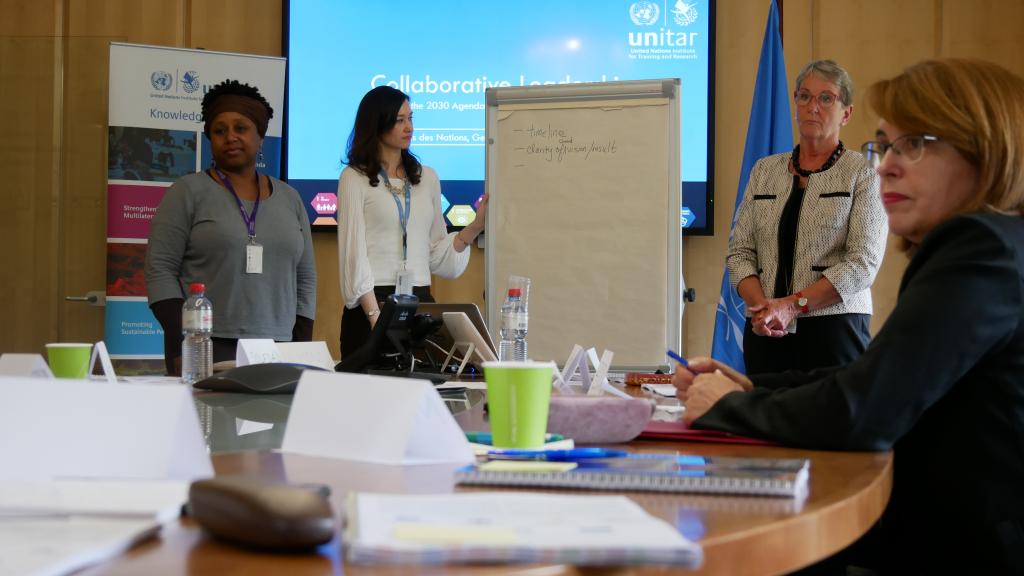 The final day evolved around psychological concepts of leadership, in line with a course on Leadership in the Public Sector, currently in development by UNITAR. The public sector can be a challenging environment to work and lead in. Multiple goals such as meeting the expectations of the citizens, working within tight budgets, keeping pace of the information technology revolution and being aware of current issues such as urbanization and global interdependence – are all complex issues that need to be managed efficiently. Leadership in the public sector involves ensuring an effective administrative framework that delivers goods and services efficiently, maintains security, law and order and ensures access, fairness and justice – all of which are critical elements to a good governance. Hence, the leadership function within the public sector is crucial as it not only impacts the performance and satisfaction of employees within the organization, but directly impacts the functioning of governments, organisations, and citizens. Leadership is at the heart of good governance.
Psychological approach to leadership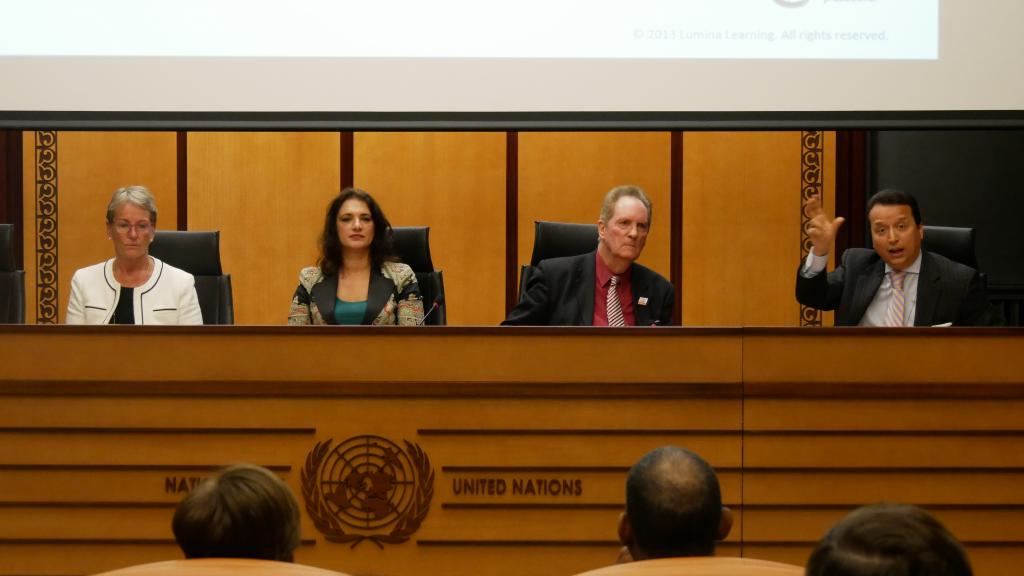 To explore how personal qualities of an individual influence his or her leadership style, Ms. Tania Hummel, HR consultant, executive coach, and senior advisor to UNITAR delivered a session on psychological concepts of leadership, specifically the Jungian Typology and the OCEAN big 5. The presentation explored how personal qualities can support collaboration or undermine it. In a subsequent practical exercise, participants were invited to explore these concepts hands-on, gaining insights into their own personalities both from their own perspective and the perspectives of others. In the closing session, Dr. Michael Hopkins, Senior Advisor to UNITAR, provided his thoughts on Corporate Social Responsibility (CSR) and responsible leadership before the workshop participants were handed their official certificates.
---
Photo 1: Group picture of workshop participants.
Photo 2: Mr. Nikhil Seth, Assistant Secretary-General and Executive Director of UNITAR delivering his keynote address on sustainable development.
Photo 3: Interactive exercice on identidying barriers to collaboration.
Photo 4: Workshop facilitators delivering concluding remarks. From left to right: Ms. Sally Fegan-Wyles, Ms. Tania Hummel, Dr. Michael Hopkins, Mr. Alex Mejia.