UNITAR and UN Environment Launch a Handbook for Formalizing the Artisanal and Small-Scale Gold Mining Sector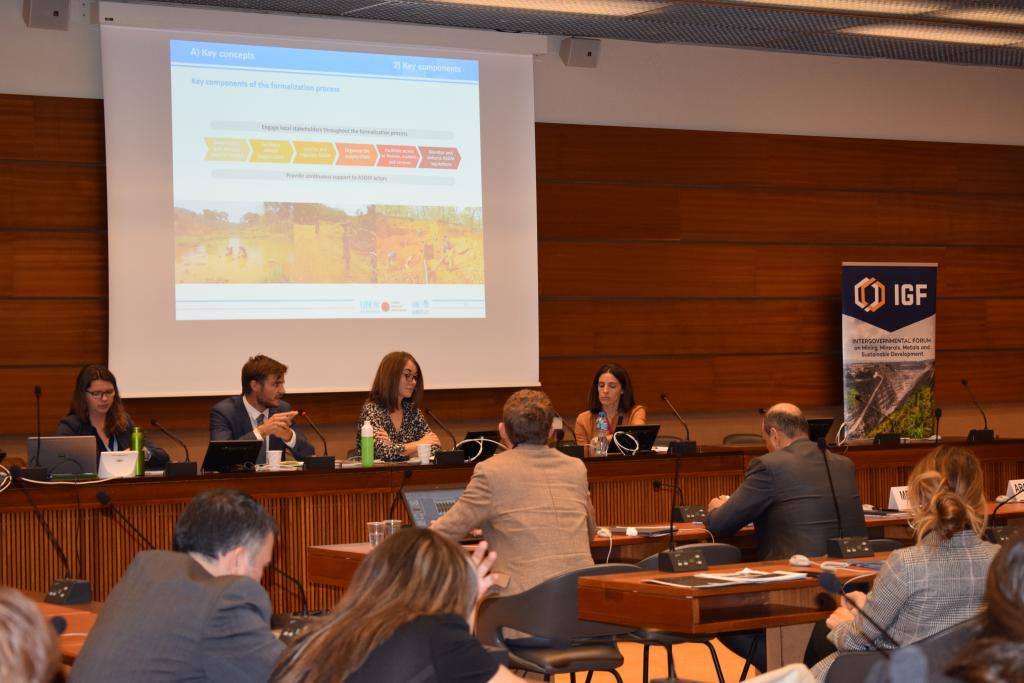 18 October 2018, Geneva, Switzerland – UN Environment and UNITAR launched the Handbook for Developing National ASGM Formalization Strategies within National Action Plans at a side event at the Annual General Meeting of the Intergovernmental Forum on Mining, Minerals, Metals and Sustainable Development (IGF) at the Palais des Nations. The event was attended by IGF member countries, including representatives from ministries responsible for mining, international organizations, the private sector, and civil society.
During the event, speakers from UN Environment and UNITAR introduced the handbook and discussed the importance of formalization of the artisanal and small-scale gold mining (ASGM) sector for mercury reduction and inclusive, sustainable development. An advisor for the Canadian International Resources and Development Institute (CIRDI) – one of many experts that were involved in the development of the handbook – also discussed how gender equality has been streamlined throughout, underscoring the importance of empowering women in the formalization of the ASGM sector.
The formalization handbook was developed in collaboration with the UN Environment Global Mercury Partnership and a group of national and international experts from governments, international organizations, NGOs, and academia. It provides a comprehensive introduction to the formalization process, including key concepts, key components, cross-cutting issues, and a human rights-based approach. This is followed by step-by-step suggestions for creating an enabling environment for ASGM formalization and developing a national strategy for formalizing the sector. The various issues and approaches are illustrated with case studies from developing countries.
The formalization handbook can be found here.
The handbook will also be presented at the Second meeting of the Conference of the Parties to the Minamata Convention on Mercury on 20 November 2018 in Geneva.
UNITAR will use the handbook to guide the technical support it provides to countries developing National Action Plans under the Minamata Convention. UNITAR is committed to supporting countries in their efforts to formalize the ASGM sector in an inclusive and participatory manner, with the aim not only to mitigate the sector's negative impacts, but also unlock the sector's potential to contribute meaningfully to sustainable development.