Twenty Young Iraqi Professionals Complete Workshop on Entrepreneurship in Baghdad, Iraq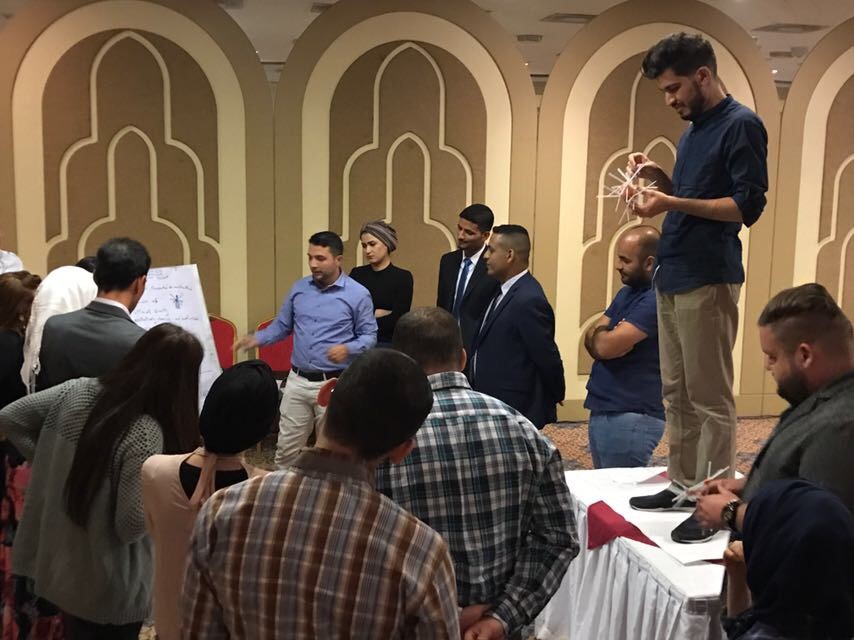 6 November 2017, Hiroshim, Japan – Workshop I of the United Nations Institute for Training and Research (UNITAR) Iraq Fellowship Programme: Entrepreneurship and Leadership Youth Training came to a conclusion after two days of training and knowledge sharing in Baghdad, Iraq. The Fellowship is a six-month specialized capacity-building programme examining entrepreneurship and youth leadership in the context of Iraq. The workshop focused on developing participants' skills through presentations and interactive practical exercises. The Fellowship is implemented with the financial support of the Government and People of Japan and the political support of the Government of Iraq.
Twenty-four Fellows and Coaches, including 12 women, from various public and private sector organizations, academic institutions, media and civil society organizations participated in the workshop. Fellows were introduced to programme requirements, millstones, and responsibilities, as well as key themes of social entrepreneurship in the Iraqi and regional contexts. The four Coaches shared their own learning journey and experiences of last year's programme, allowing Fellows to gain new insights from their peers.
An Opening Ceremony was held on the first day of the workshop. New Fellows and programme alumni participated in the ceremony, along with Ambassador of Japan to Iraq H.E. Fumio Iawi, General Manager of the Scientific Welfare Directorate, Ministry of Youth and Sport, Mr. Eng. Ahmed S. Elewi, and Ms. Eng. Intisar A. Mohammed, General Director of the National Center for Water Resources Management, Ministry of Water Resources.
Workshop II of the programme will take place in Istanbul, Turkey, and will focus on Organizational Needs Assessment, as well as deepen Fellows' knowledge of social entrepreneurship.

---
About the Programme
The UNITAR Iraq Fellowship Programme was developed by the UNITAR Hiroshima Office, with funding support from the Government and People of Japan and with institutional support from the Government of the Iraq, to cultivate the social entrepreneurship and project-development knowledge, skills, and attitudes of selected Iraqi professionals. The programme features a blended learning methodology and includes asynchronous and online training, coupled with two Iraq-based and two international workshops. Each workshop links with self-led projects examining challenges and opportunities as they exist in Iraq today.
UNITAR would like to thank the Government of Iraq, Zain Telecommunication Company, Iraq, the United Nations Development Programme (UNDP) Iraq, and many other partners for their generous support for Workshop I and the 2017 Cycle overall.
---
For more information, please contact:
At the UNITAR Hiroshima Office
Shamsul Hadi SHAMS (Mr.) | E-mail: shamsul.shams@unitar.org | Phone: +81 82 511 2424
At the Embassy of Japan in Iraq
Maika Fukada (Ms.) | E-mail: maika.fukada@mofa.go.jp | Phone: +964 (0)770 444 8206
---
Photos: (upper) Fellows during a session of Workshop I in Baghdad; (lower) Fellows, programme alumni, and UNITAR staff at Workshop I in Baghdad