UNITAR Roundtable on Sexual Violence Prevention
28October 2014, Geneva, Switzerland – On the 23 October, members of the UNITAR Peacekeeping Training Programme (PTP) Advisory Board gathered in Geneva to further advise UNITAR leadership on how best UNITAR could contribute to promoting peace and security through training and capacity building. Back-to-back with the board meeting, a high level event was held on the subject of Sexual Violence in Conflict.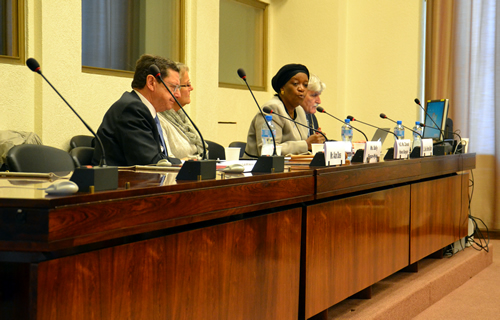 The panel of the roundtable included three of the eminent persons of the UNITAR PTP Advisory Board; namely the Special Representative of the Secretary-General on Sexual Violence in Conflict H.E. Ms. Zainab Hawa Bangura, Lt.Gen. Roméo Dallaire, the former UN Commander of the UN Mission in Rwanda, and Mr. Alan Doss, Executive Director of the Kofi Annan Foundation and Former Special Representative of the UN Secretary-General to the Democratic Republic of the Congo.
The event was held in the Palais des Nations, UN office Geneva, and was well attended by a strong showing of the diplomatic community; National representatives, Geneva based NGOs, the UN community, journalists and several interested members of the public. The roundtable discussion deeply analysed the role of the local communities in preventing sexual violence. SRSG Zainab Bangura brought fresh insight from her recent mission in South Sudan. Her Excellency Ms. Bangura also stated the importance she saw in engaging local communities and non-state actors to tackle sexual violence, drawing on her experience in the field in Darfur and the DRC. The SRSG also spoke of the importance of increasing accountability for Sexual Violence offences and of moving the stigma from the victims of Sexual Violence and placing it on the aggressors. 
The panel on the whole delivered expert views on the military, humanitarian and political approaches to tackling sexual violence, drawing on strong personal examples and experiences. General Dallaire drew on his extensive experience in the field and described how sexual violence had become "mainstreamed" as a weapon of war. Mr Alan Doss drew on his extensive knowledge of the Department of Peacekeeping Operations (DPKO) and explained the importance of understanding and mapping Sexual Violence, and that it was important to tackle problems with Sexual violence in-house, before DPKO could have a real impact on the ground.
The panel all agreed that local communities had a crucial role to play in mitigating Sexual Violence and that a 'holistic victim-centred approach' was needed; where support for the victims of sexual violence and their families was provided. In all, the panel stressed that we can all do more, by working together to end the stigma on victims, and stop impunity for sexual violence offenders, so that real accountability and reconciliation can take place.
---
Photo: From left to right: Mr. Alan Doss (Executive Director, Kofi Annan Foundation), Sally Fegan-Wyles (Executive Director, UNITAR), SRSG H.E Ms Zainab Hawa Bangura, Lt.Gen. Senator Roméo Dallaire.