28 January 2012, New York, USA - The New York Times has once again used UNOSAT satellite derived analysis to illustrate an international humanitarian crisis, this time the surge of Syrian refugees crossing the border with Jordan to seek shelter at the Al Zaatari camp.
Several refugee camps have developed in neighbouring countries since the inception of the Syrian crisis in 2011. UNOSAT has been following the evolution of the Al Zaatari and several other camps from space since their creation to support the planning of relief operations by UN humanitarian agencies including OCHA and UNHCR.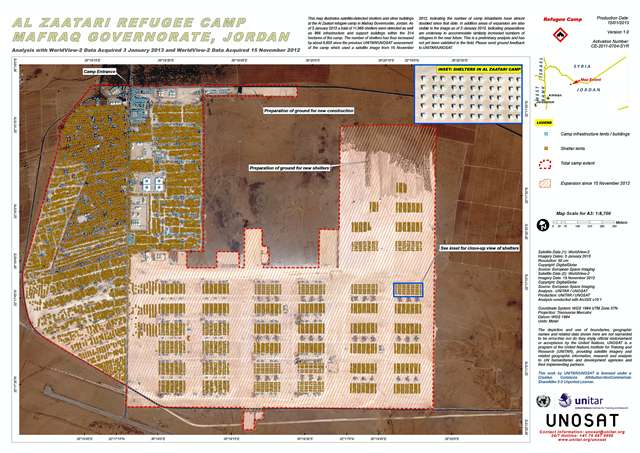 The Al Zaatari camp is one of the locations where the refugees' influx has been most significant, especially in the recent phases of the crisis. The camp shelters over 70,000 of the overall 300,000 refugee population presently in Jordan. Since summer 2012 more than 500,000 new refugees fled from Syria to neighbouring countries.
The New York Times mapping experts have resorted to UNOSAT analysis results several times already, notably to illustrate Piracy off the Somali coasts, but also to cover major crises such as the 2010 Pakistani floods, the Haiti earthquake, and of course the crisis in Syria. Several other media and newspapers regularly feature UNOSAT high-quality mapping and analysis.
Watch the interactive map on the New York Times site.
Image: the Al Zaatari camp seen from space in a recent UNOSAT camp monitoring map.