A New Partnership Between UNITAR and AGFUND is Sealed in Geneva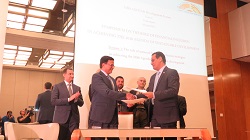 19 April 2017, Geneva, Switzerland – The United Nations Institute for Training and Research (UNITAR) has agreed to an unprecedented partnership with the Arab Gulf Program for Development (AGFUND), which was concluded yesterday as part of the Fifth AGFUND Development Forum. Both organizations, represented by Mr. Nikhil Seth, United Nations Assistant Secretary-General and Executive Director of UNITAR, and by Mr. Nasser B. Al-Kahtani, Executive Director of AGFUND, signed a Memorandum of Understanding based on mutual trust and in spirit of cooperation. The official signing was the preamble of the "Symposium on the Role of Financial Inclusion in Achieving the 2030 Agenda of Sustainable Development", organized by the AGFUND and taking place yesterday in Geneva.
The objectives of this Memorandum of Understanding (MoU) are to provide a cooperative framework within which AGFUND and UNITAR will develop and implement activities, as well as to utilize their existing resources for the benefit of the activities' beneficiaries. The forms of cooperation between the two organizations are expected to include the delivery of technical assistance, training, conferences, workshops, and the development of knowledge resources. Financial inclusion, mainly in the African region, is a special concern of AGFUND and UNITAR. This area of work – that can be defined by financial services (e.g. credit, savings, payments, mortgage) delivered at affordable costs to disadvantaged populations as a tool for poverty reduction – falls within the framework of the 2030 Agenda for Sustainable Development. Financial inclusion is important to allow the beneficiaries to save money or take loans in order to study, overcome health crises, start new businesses, and improve their standard of living.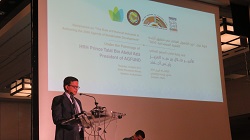 According to Mr. Nikhil Seth, "While the 2030 Sustainable Development Goals (SDGs) do not explicitly mention financial inclusion, greater access to financial services is a key enabler for many of them", as he introduced his keynote speech this morning. UNITAR's Executive Director believes that national financial inclusion strategies provide the groundwork for coordinated efforts between government, private sector and civil society. The SDGs call for action by all countries and the SDG areas cannot be financed from public resources alone and will require private financing, hence the new partnership with AGFUND and other strategic partnerships, such as the collaboration with Arab Bank for Economic Development in Africa (BADEA). 
The Fifth AGFUND Development Forum takes place in Geneva, during the period of 18-20 April 2017. The Forum is held under the patronage of HRH Prince Talal Bin Abdul Aziz, President of AGFUND, and attended by development partners, media and AGFUND Prize winners.
For further information about AGFUND please visit http://agfund.org/.
---
Photo 1: Signature of Memorandum of Understanding by AGFUND Director General Mr. Nasser B. Al-Kahtani and UNITAR Executive Director Mr. Nikhil Seth.
Photo 2: UNITAR Executive Director Mr. Nikhil Seth delivering keynote address on " The Role of Financial Inclusion in Achieving the 2030 Agenda of Sustainable Development".