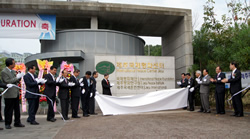 13 October 2010, Jeju, Republic of Korea. CIFAL Jeju's Inauguration ceremony was held on October 13th, 2010 at the International Peace Center in Jeju, Republic of Korea.
Ambassador Dalho Chung, CIFAL Jeju's Director, welcomed the audience of 60 guests, while the Governor of  Jeju Special Self-Governing Province, Mr. Keun Min Woo gave congratulatory remarks, highlighting the significance of CIFAL Jeju in support the achievement of the Millennium Development Goals (MDGs) in the Asia-Pacific region through capacity-building and knowledge sharing.  Mr. Jun Young Sun, the CEO of the UN Association of the Republic of Korea, noted CIFAL Jeju's role in responding to growing needs for international cooperation.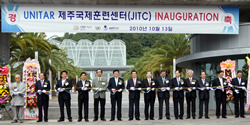 Distinguished guests were present to congratulate the inauguration of CIFAL Jeju, including Mr. Hyang Jin Hur, President of Jeju National University, representatives of the country's Ministry of Foreign Affairs, local dignitaries, and local actors.
CIFAL Jeju will provide workshops/seminars to further local governments' capacity-development, especially in the area of "sustainable urbanization and environment" and "human security". The first workshop "The Low-Carbon City: Green Growth for Local Governments in the Asia-Pacific Region" will be held from 11-13 November 2010 in Jeju, Republic of Korea.
CIFAL Jeju is the newest local development training centre under UNITAR's network of affiliated training centres, or the CIFAL Network. The CIFAL acronym is derived from the Spanish or French for International Training Centre for Local Actors or "Centro Internacional para la Formacion de Actores Locales." The CIFAL Network serves as a regional to local level training platform for UNITAR and United Nations training local actors on sustainable local development topics, based on identified regional challenges and needs on topics related to decentralization, urbanization, basic services delivery, or green growth topics.
For more information on CIFAL Jeju and other UNITAR local development training events see www.UNITAR.org/ldp.