Members of the High-Level Panel on Peace Operations, and Peacebuilding Review Meet with Special Representatives of the Secretary-General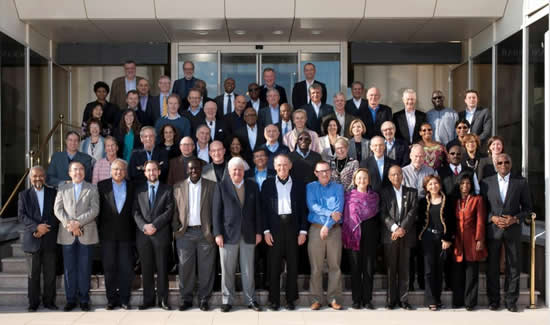 30 April 2015, Switzerland - At the Eleventh Seminar for Special and Personal Representatives and Envoys of the Secretary-General, members of the Secretary-General's High-Level Independent Panel on Peace Operations, and a member of the Advisory Group of Experts of the 2015 Review of the UN Peacebuilding Architecture engaged in dialogue with heads of peace missions around the world and senior Headquarters staff to seek their analysis, priorities and lessons learned to enhance UN peace operations. The seminar provided a unique opportunity for an exchange of views and experience on key issues related to the prevention and sustainable resolution of conflict with the purpose of contributing to future policy and practice in UN peace operations.
The Secretary-General led a dialogue by videoconference with his heads of mission, outlining his vision and priorities, and examining together challenges, dynamics and emerging trends as well as strategies and lessons in the promotion and protection of rights, the prevention of violent conflict and the practice of effective peacemaking and peacekeeping. Leaders of UN special political missions and peacekeeping operations took part with the Deputy Secretary-General and senior officials responsible for political affairs, peacekeeping, field support, humanitarian affairs, human rights, refugees and peacebuilding. Given the strategic relationship with the African Union, the AU Peace and Security Commissioner also participated to contribute priorities and lessons.
The Institute is grateful to the Department of Foreign Affairs of Switzerland, the Federal Foreign Office of Germany, and the Ministry for Foreign Affairs of Sweden for providing the support that made possible these important knowledge and experience-sharing exchanges among senior United Nations peacemakers.