UNITAR Workshop on Leveling the Playing Field-Multilateral Negotiations: Protection of Civilians
30 - 31 July 2015, New York, USA – The United Nations Institute for Training and Research (UNITAR) New York Office organized a workshop on Multilateral Negotiations with a specific orientation towards Protection of Civilians (POC).  Around 30 delegates from various United Nations Member States participated in an intense and engaging two-day training event.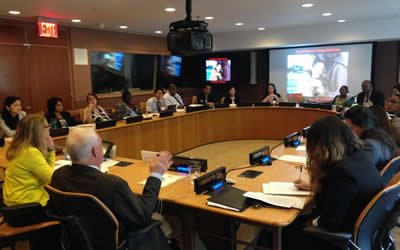 Yvonne Lodico, Head of the UNITAR New York Office, opened the workshop by affirming that POC has become a central matter of international concern and an issue regularly considered by the UN Security Council. The aim of this workshop, she asserted, was to empower diplomats' negotiation skill and confidence in multilateral environments in implementing POC, and to provide them with a comprehensive knowledge base on POC, Responsibility to Protect (R2P) and the gaps between policy and practices. In her opening remarks, H.E. Paik Ji-ah, Deputy Permanent Representative of the Permanent Mission of the Republic of Korea to the United Nations, echoed Ms. Lodico's words by stating that diplomats need negotiation tools to look into POC in view of the complexity of the three main issues including national sovereignty, national ownership and peacekeeping mandates. She also stressed the engagement and past efforts of Republic of Korea towards promoting POC.
During Session I: Discerning POC, Dr. Robert Zuber, Director of the Global Action to Prevent War (GAPW) provided an overview of the concept and the Security Council Resolutions. During Session II, experts from various UN bodies and specialized agencies discussed key issues ranging from mission planning to humanitarian, health and gender based violence issues: Dr. Nata Menabde, Executive Director and Ms. Fatima Khan, External Relations Officer of World Health Organization (WHO) New York Office; Mr. Ralph Mamiya, Team Leader of the Protection of Civilians Team of UN Department of Peacekeeping Operations and Department of Field Support (DPKO/DFS); Ms. Maymuchka Lauriston, Human Rights Officer Office of the High Commissioner for Human Rights, New York Office (OHCHR NYO), overviewed roles of their respective UN agencies as well as their different approaches towards POC. In their respective discussions, OHCHR identified synergies between the human rights and POC mandates; DPKO/DFS explored peacekeeping mandates and various strategies used for implementing POC in the field; WHO emphasized the importance of securing health services to POC and paying special attention to the necessity for inter-agency collaboration.
In Sessions III and IV, Dr. Simon Adams, Executive Director of Global Centre for the Responsibility to Protect and Mr. Mel Duncan, Founding Director of Advocacy and Outreach Nonviolent Peaceforce explained their organizations emphasis on saving lives and protection civilians. The delegates learned about the differentiation between POC and R2P and discerned alternative applications of POC, such as unarmed POC. In Session V focusing on gaps between POC at the policy level and POC in practice, Mr. Julien Piacibello, Humanitarian Affairs Officer, Protection and Displacement Unit Policy Development and Studies Branch, UN Office for the Coordination of Humanitarian Affairs (OCHA) brought insight on the four key challenges faced by protection actors in translating POC norms into realities on the ground. The final session of the workshop adopted a participatory approach with case studies and negotiations simulation exercises. Delegates also learned from the UNITAR documentary entitled "Mandated to Protect: Protection of Civilians in Peace Operations" and the UNITAR video of multilateral negotiations training.
According to delegates, these two intensive days have been valuable in providing them a thorough introduction to the definitions, rules and practices of POC. As a critical component for a sustainable political peace, POC has become a very visible indicator of the legitimacy and credibility of the entire UN system. It is hoped that the workshop equipped the delegates with the expertise needed in multilateral negotiations that incorporate POC, which will further lead to its more effective applications.
---
Photo: participants in the workshop