Join Our Global MOOC Survey
International organizations support the quality initiative MOOQ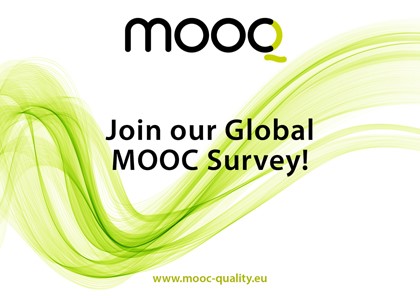 February 2017, Geneva, Switzerland - The Global MOOC Survey is a scientific, independent and non-profit first global survey on the quality of Massive Open Online Courses (MOOCs). It targets MOOC learners, MOOC designers and MOOC facilitators. The long-term goal is the development of quality indicators and tools to improve the design of MOOCs.
Leading international organizations and associations are supporting the survey, including four United Nations' organizations. The Global MOOC Survey is accessible online www.survey.mooc-quality.eu. It is open until 31 March 2017 to allow feedback from all interested parties. All findings will be publicly shared online.
The Global MOOC Survey is supported by four United Nations' organizations: Educational, Scientific and Cultural Organization (UNESCO) Institute for Information Technologies in Education (IITE); Institute for Training and Research (UNITAR) ; International Labour Organization (ILO) - International Training Center (ITCILO); the Food and Agriculture Organization (FAO) as well as by many international associations and institutions, such as the International Council for Distance and Open Education (ICDE); Open Education Consortium (OEC); International Community for Open Research and Education (ICORE); Commonwealth of Learning (COL); European Association of Distance Teaching Universities (EADTU); European Distance and E-Learning Network (EDEN); European Association of Technology-Enhanced Learning (EATEL); Contact North (CN).

The Global MOOC Survey is designed and organized by MOOQ, the European Alliance for the Quality of MOOCs. Based on the survey results, a Quality Reference Framework with indicators and tools for MOOCs will be developed and discussed in collaboration with interested international stakeholders. Their contributions and evaluation will lead to valuable instruments for designers and facilitators to improve the quality of MOOCs for all learners worldwide.
The structure and design of the survey was developed by MOOQ in continuous improvement cycles. A desktop research analysed existing quality frameworks and indicators. A Quality Reference Framework (QRF) matrix was developed by MOOQ for the quality of MOOCs and the first items and questions were formulated. An online pre-survey, several interactive workshops at international conferences, interviews and guided discussion panels with MOOC experts were organized and conducted. Through these activities, MOOQ could gain external feedback and test, discuss and determine quality dimensions and indicators with participants from all over the world who reflected and provided feedback in a preliminary version of the survey. As a result, 13 survey constructs and question were validated by MOOQ: Pedagogical Decisions, Learning Objectives, Duration & Structure, Duration & Interaction, Learning Resources, Learning Support, Flexibility & Inclusion, Learning Progress, Learning Environment, Learning Assessment, Learning Certification, Design Process and Online Facilitation. This scientific procedure has lead to the final Global Survey on the Quality of MOOCs that is now launched : www.survey.mooc-quality.eu
---
Relevant links
The final Global Survey on the Quality of MOOCs www.survey.mooc-quality.eu
Follow MOOQ on Twitter: @moocquality | Like MOOQ on Facebook: "MOOC Quality" | And join the Facebook group: https://www.facebook.com/groups/1211731982214031/
MOOQ Contact
Coordinator: Dr. Christian M. Stracke | Organization: Open University of the Netherlands | email: christian.stracke@ou.nl

MOOQ is funded with support from the European Commission. This communication does not reflect the views of the Commission and it cannot be held responsible for any use which may be made of the information contained therein.