Introductory e-Course on Climate Change, Now Available in Arabic
The UN CC:Learn free Introductory e-Course on Climate Change is now available in seven languages, including Arabic. 
25 April 2018, Amman, Jordan - Did you know that more than 400 million people speak Arabic? From today, Arabic speakers will be able to join the community of over 90,000 people that have already started learning about climate change and its impacts. The Introductory e-Course on Climate Change is part of the UN CC:Learn global initiative; a partnership of more than 50 countries and international institutions.  
The course is self-paced and free-of-charge, providing clear, concise and up-to-date information for anybody interested in acquiring essential knowledge about climate change. The course has already been completed by over 10,000 people worldwide; now available in six languages: Arabic, Chinese Mandarin, English, French, Portuguese and Spanish. The syllabus and the course can be accessed by registering at the UN CC:e-Learn platform.
The e-course is structured in six modules:
Climate Change Science
International Legal and Policy Framework for Climate Change
Climate Change Adaptation
Climate Change Mitigation and Low Carbon Development
Climate Change Finance
Climate Change Governance and Planning
The Arabic version was developed in collaboration with the Ministry of the Environment of Jordan and EDAMA Association for Energy, Water & Environment and launched on 25 April 2018, in Amman, Jordan.
Angus Mackay, representative of the UN CC:Learn Secretariat said
"We would like the thank the Government of the Kingdom of Jordan and its partners for supporting this important investment in bringing UN CC:Learn to the Arab speaking world. We hope that the will help to build an understanding of the main causes and effects of climate change and help to generate consensus and innovative ideas for a more environmentally and socially sustainable future".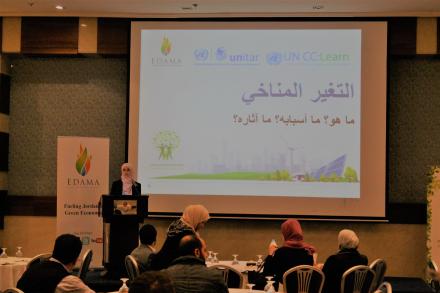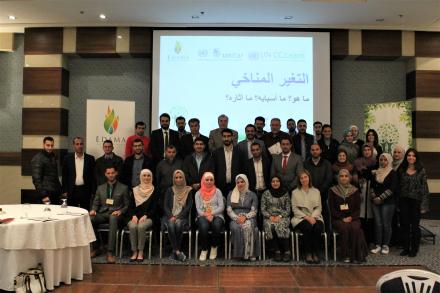 ---
About EDAMA
EDAMA is a Jordanian business association which aims to create and foster mature energy, water and environment sectors that advance Jordan's movement towards a green economy. To establish Jordan's energy independence, water security, and environmental well-being, EDAMA aims to provide an enabling environment for export opportunities - in the form of marketable Energy, Water and Environment solutions and technical expertise - to emerge and flourish.
---
About the Ministry of Environment of Jordan
The Jordanian Ministry of Environment is an active player in the region when it comes to the green economy and climate change. Through it Environment Protection Fund, the Ministry of Environment aims to support projects that contribute to environmental protection and sustainable management of natural resources. Awareness, education and capacity development are among key enablers for environmental sustainability.
---
About UN CC:Learn
UN CC:Learn is a partnership of more than 30 multilateral organizations supporting countries to design and implement systematic, recurrent and results-oriented climate change learning. At the global level, the partnership supports knowledge-sharing, promotes the development of common climate change learning materials, and coordinates learning interventions through a collaboration of UN agencies and other partners. At the national level, UN CC:Learn supports countries in developing and implementing national climate change learning strategies. Through its engagement at the national and global levels, UN CC:Learn contributes to the implementation of Article 6 of the UNFCCC on training, education and public awareness-raising, and the 2012-2020 Doha Work Programme.  Funding for UN CC:Learn is provided by the Swiss Government and UN partners. The Secretariat for UN CC:Learn is hosted by the UN Institute for Training and Research (UNITAR).
---
Photo 1: Arabic e-course flyer.
Photo 2: The introductory e-Course on Climate Change in Arabic was presented at the launch event.
Photo 3: A group photo of participants.