2 March 2012, Geneva, Switzerland - The United Nations Human Rights Council received today the report of the Independent Commission of Inquiry on Libya. The report illustrates the findings of the Commission regarding the situation of human rights in Libya during the recent conflict. UNOSAT had been requested by the Commission to produce satellite imagery analysis in support of the fact finding mission conducted in Libya and also on several locations and episodes occurred during the combat operations in Libya. UNOSAT expert analys, gathered in a geospatial report annexed to the main report, ismentioned in 19 findings of the Commission.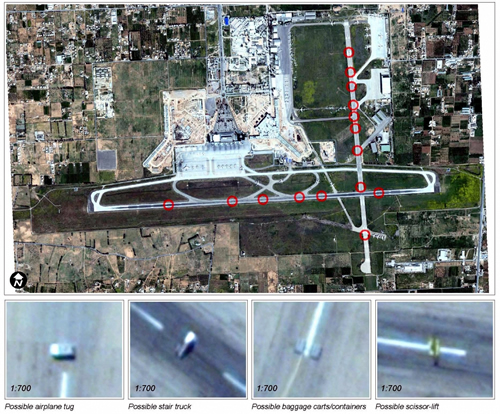 On 25 February 2011, the United Nations Human Rights Council adopted resolution S-15/1 entitled "Situation of Human Rights in the Libyan Arab Jamahiriya" which decided to dispatch an independent, international Commission of Inquiry.  The Office of the United Nations High Commissioner for Human Rights (OHCHR) supported the Commission with a Secretariat which requested the support of UNOSAT for specialized satellite imagery analysis.
The mission of the Commission established by Resolution S-15/1 was to "investigate all alleged violations of international human rights law in the Libyan Arab Jamahiriya, establish the facts and circumstances of such violations and of the crimes perpetrated". Given the Security Council's referral of events in Libya to the International Criminal Court, the Commission also considered events in light of international criminal law.
A first report was submitted in June 2011 by the Commission. The Human Rights Council then extended the mandate of the Commission in light of the extensive and on-going allegations of abuses and requested the Commission to provide a second report at the Council's nineteenth session in March, 2012. This second report uses extensive analysis done by UNOSAT within the framework of its human security mapping service, initiated in 2010 thanks to a grant by the John D. and Catherine T. MacArthur Foundation. The service specialized in analysis of violations of International Humanitarian Law and International Human Rights Law, which applied to the Libyan conflicts in various ways through the three phases that have characterized the conflict. 
The Commission faced a number of significant challenges and had to face difficulties that prevented a return to the field until October 2011. Substantial investigations were possible only as of December 2011.  There were also logistical difficulties in accessing places and individuals. Some of these were solved through the analysis of very high resolution imagery performed by UNOSAT based on imagery gathered through the new near real-time access to imagery acquired by UNOSAT with its new Data-in-Hand policy.
The report (A/HRC/19/68) can be accessed by visiting the Human Rights Council website. The UNOSAT report is published as Annex IV.
Images copyright UNOSAT 2012