Hiroshima's Green, Timeless Legacy
By Nassrine Azimi (the original article was published in the UN Special, February 2018 edition)
Hiroshima – At 8h15, on the morning of Monday 6 August 1945, the city of Hiroshima was destroyed by a single atomic bomb. Code-named 'Little Boy' the bomb exploded 600 meters  above the city center, burning alive tens of thousands of people at first impact.
By the end of that apocalyptic year, more than a third of Hiroshima citizens – including most of its doctors, nurses and first aid helpers – had died. As catastrophic conditions continued, with survivors succumbing to radiation disease and starvation threatening the living, there was even talk to rebuild whatever could be rebuilt, but elsewhere.
Ultimately the bonds of survivors to the land of their ancestors prevailed, and in that burnished plain the citizens of Hiroshima set out to rebuild their lives, and their city. Today, in what had been pre-war Hiroshima's center obliterated by the bomb, stands the iconic Peace Memorial Museum and Park, brainchild of a remarkable politician and Hiroshima's first elected post-war mayor, Shinzo Hamai. Convinced that brick and mortar alone could not resuscitate his decimated hometown, Hamai and other visionary leaders called on the Supreme Commander for the Allied Powers in occupied Japan, pleading for special subsidies to transform Hiroshima from the military city it had been to a city symbol of peace – 'the Geneva of Asia'. The American Occupation had been initially reluctant to treat either Hiroshima or Nagasaki any differently than the numerous Japanese cities and urban areas carpet-bombed in the war's final months, but the plea was finally heeded, and in 1949 Japan's National Diet passed a special law for preferential treatment of the two A-bombed cities.
It was a turning point. The winning design for the architectural competition to build Hiroshima's Peace Memorial Museum and Park was that of a young, modernist architect and future Pritzker prize winner, Kenzo Tange (he later built the UN building in Tokyo). Tange proved to be a remarkable choice. From the start he envisioned not just one building but a living memorial, presciently aware of Hiroshima's universal calling, writing that his 'goal was making Hiroshima a city symbolic of the human longing for peace'. The current layout – including the Flame of Peace, the water pools, the arcshaped Cenotaph for Victims and, further away, the A-Bomb Dome – is astonishingly close to Tange's original vision, sketches and design. The Peace Park also remains, to this day, the nerve center of Hiroshima – spiritually, geographically, even commercially and among the most visited sites in Japan by foreigners. It is the beholder of the city's memory and identity, and the most sacred place for its Hibakusha – A-bomb survivors – and their descendants.
But another kind of survivor, too, lives on in the Peace Park. It is a Chinese parasol, Aogiri in Japanese, among 161 trees growing in 55 locations within the roughly 2- kilometer radius of the hypocenter that survived the atomic blast. The trees, to be found in public parks, schools, shrines and temples, in private homes, by river banks or near parking lots – are officially registered by the Municipality as A-bombed trees, hibakujumoku. Lovingly cared for over the years by Hiroshima citizens, they are identified with a special plaque and given extra care and treatment by authorities.
Other than the feisty Aogiri, these survivor trees include a majestic 300-year-old Ginkgo biloba in Hiroshima's oldest garden Shukkeien, a huge, twisted eucalyptus on the grounds of Hiroshima Castle, a few jujube, weeping willow, hackberry, holly, persimmon, camellia, cherry, peonies and many camphor, Hiroshima's native tree. Some were identified in solitary conditions, others survived in groves. Most but not all still carry visible traces of their trauma. The three dozen or so that remain rooted in the exact location as at the moment of the atomic blast (others were moved or had new shoots sprout from burnt trunks) are slightly bent, inclined towards the hypocenter – the side of the tree directly exposed to the radioactive blast having been weaker in the early years. Marked as they are, however, these survivor trees are still astonishingly alive, vibrant, and bountiful: many still bear seeds and fruit.
I have been in love with trees since my youth. They are all the things we know them to be – noble and beautiful, incredibly essential to life, stunningly diverse, fragile but strong. I love too their overflowing generosity: shade and cool in the summer, cover and warmth in winter, roots that strengthen the soil and filter the water. Their very breath cleanses the air around us and every part of their being – root, trunk, branch, sap, leaf, fruit, nut – has some utility, many mysteries of which we still do not comprehend. Yet, despite all their giving, trees remain modest and frugal, asking only for clean water, soil, air and some sunshine.
Once I stepped down from active UN duty and had more time to learn of the work that Hiroshima citizens had been doing with the survivor trees, I wanted to contribute. I read of the tireless efforts of Suzuko Numata, a hibakusha, for the Aogiri. A splendid book 'Survivors – The A-bombed trees of Hiroshima' came my way and helped further articulate the idea that the trees should be treated not just individually but together, as an ensemble, like an orchestra. I learned that when seeds and saplings were sent around the world, recipient institutions should make a long-term commitment to their care. UNITAR alumni worldwide, I thought, could become effective and devoted ambassadors for the trees' message.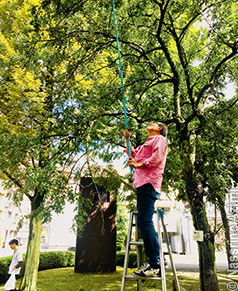 An idea not implemented however is merely wishful thinking, so I turned to a friend, Tomoko Watanabe – executive director of a small NGO called ANT-Hiroshima and famous for her practical and 'can-do' spirit. Tomoko-san was just the right person to champion the cause: characteristically she set out to mobilize not only her family but also her extensive networks at the grassroots level, including a marvelous tree doctor and Green Legacy's Master Gardener, Chikara Horiguchi. Originally an economics major, Horiguchi-san had encountered the ancient trees of Yakushima Island, a UNESCO world heritage site in southern Japan, during a hiking trip, and decided there and then to change professional paths and dedicate his life to caring for trees. After marrying a Hiroshima native, he moved here in the 70s and started a greenery business, while in his own spare time he took to caring for the survivor trees. Another member, the architect Akio Nishikiori, with his encyclopedic knowledge of Hiroshima's reconstruction history, became the precious urbanist-in-residence for our campaign.
Thus, in July 2011 Green Legacy Hiroshima Initiative was launched as a global, volunteer campaign. UNITAR accepted to host its website pro-bono, and ANT (now UNITAR) provided a small secretariat. A Working Group was composed to guide its work, bringing on board all concerned players in Hiroshima: the City, Prefecture, Peace Culture Foundation, Mayors for Peace secretariat, botanical garden and main university. A smaller committee of experts agreed to help us with operational aspects. It was a bare, streamlined structure but one which has proven itself surprisingly sustainable. As a concept, Green Legacy Hiroshima is full of contradictions. Its core message is deep yet broad, local yet supremely universal. It is a story set in the past but also fully turned to the future. Its impact is immediate yet long-term, and if the trees are well-cared for, it is sustainability itself (seeds cost almost nothing). It calls attention to the haunting, chilling effects and prospects of nuclear war, and yet, maybe because of the trees' resilience and beauty, it is strangely full of hope. I sometimes feel that honoring these trees and their descendants can convey, as much as words, the dangers of arms of mass destruction but also the sacred character of nature and our planet Earth.
Today, thanks to our partners worldwide, seeds and saplings from A-bombed trees are growing in some 35 countries – from Afghanistan to Iran, from Singapore to New Zealand, in Chile, the United States, Lithuania, The Netherlands….. It is a slow, sustained, long-term effort, seeking not quantity but to create a certain gravity and resonance about our relation with nature and with one another in the nuclear age. We call it the 1000-year project.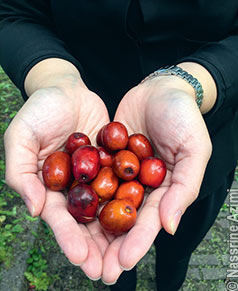 In Geneva, too, we have planted descendants of Hiroshima's survivor trees. On the grounds of the ICRC now grows a robust Ginkgo biloba, descendant of the mother tree in Shukkeien Garden. Since last year another ginkgo, this one planted by former UN Secretary-General Ban Ki Moon, grows on the grounds of the Arianna Park. A native of China, the Ginkgo is one of the most ancient trees on the planet. The writer Ariel Dorfman, in an eloquent and poetic tribute to Hiroshima last August, wrote of the ginkgo as 'an expert in survival, a species found in fossils 270 million years old'. It can grow 50-meters tall, and live for centuries. It is also particularly resistant to pollution, disease and fire, which may explain why it survived the nuclear blast.
But even the mighty ginkgo cannot survive today's atomic bombs. The mind can hardly wrap itself around the fact that the world's current combined nuclear weapon capability is infinitely greater than that which destroyed Hiroshima and Nagasaki. As the Hibakusha remind us, there is no option left for humanity, but to embrace, fully and unconditionally, the call for 'No more Hiroshima, No more Nagasaki'. Those who worked so hard for the historical Nuclear Weapon Ban Treaty, signed at UN Headquarters on July 7, 2017 understood the compelling urgency of this call. The human experiment with nuclear weapons simply cannot be repeated.
Hiroshima first, Nagasaki last.
It is also the message of Hiroshima's noble trees.
---
Related link
Green Legacy Hiroshima website
---
Nassrine Azimi is currently a professor of international organizations at Hiroshima Shudo University and a visiting scholar at the Terasaki Center for Japanese Studies, University of California, in Los Angeles (UCLA). She joined the United Nations Institute for Training and Research (UNITAR) in 1986, serving successively as the coordinator of the Institute's environmental programs, chief of its New York office, and founding director of the Institute's Hiroshima Office.  She is a co-founder/Coordinator, Green Legacy Hiroshima Initiative. Senior Advisor, United Nations Institute for Training and Research (UNITAR).
---
Photo 1 and 2: Master gardener Horiguchi with the Jujube tree, Hiroshima Peace Avenue, September 2017.