November 2016, Vientiane, Laos - As announced by the UN Secretary-General at the ASEAN Summit, the first UNITAR Regional Training Programme in Peacemaking and Preventive Diplomacy for the Asia-Pacific was organized for diplomats and track two officials in Vientiane 21-25 November. The programme took place within the context of the ASEAN-UN Plan of Action, and was hosted by the Ministry of Foreign Affairs of Laos, the current ASEAN Chair.
Two ambassadors counted among the 43 mid and senior level officials who took part from each ASEAN Member State, as well as from Bangladesh, Nepal, Papua New Guinea, Sri Lanka and Timor Leste. The training programme included presentations of case studies and lessons learned from those involved in peacemaking and prevention efforts in a number of regions as well as theory and practice sessions in conflict analysis, listening skills, negotiation, and reconciliation.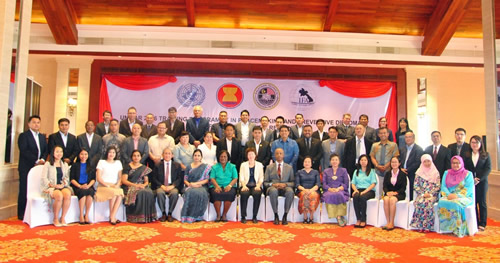 The sole female negotiator in the Bougainville peace process also took part and shared lessons from her involvement in the negotiations. Sessions focusing on enhancing women's participation in peace processes and in social transformation through community mediation were also included.
This first regional training programme for officials of the region was made possible through financial support from the United Nations Department of Political Affairs and the Government of Malaysia for which the Institute is most grateful. There is already a waiting list of potential officials for a requested 2017 training for the region.
The UNITAR Programme in Peacemaking and Conflict Prevention brings
23 years' experience in the development and design of tailored training programmes for senior and mid-level officials and other key actors in the prevention of violent conflict and promotion of sustainable peace.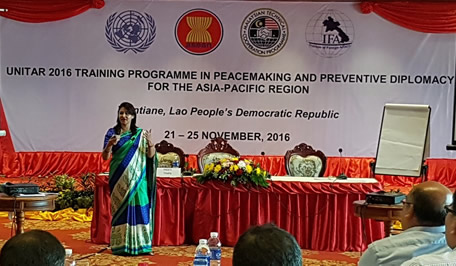 ---
Photo 1: Participants, Resource Persons and Staff at the UNITAR Asia-Pacific Regional Training
Photo 2: Resource Person Ms. Preeti Thapa speaking on community mediation