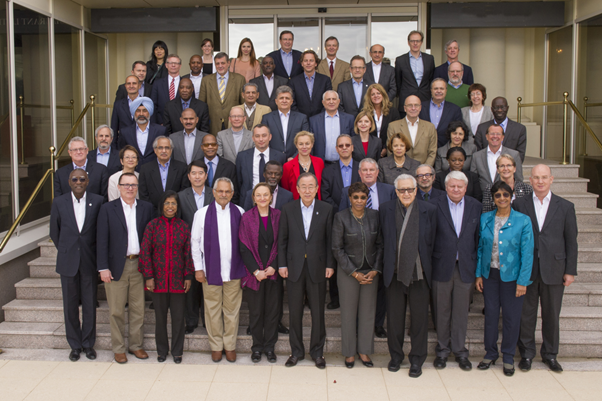 30 April, 2014 – The Tenth Seminar for Special and Personal Representatives and Envoys of the Secretary-General brought together the heads of UN peace missions and peacekeeping operations around the world, with the UN Secretary-General and senior Headquarters and agency officials, for the purpose of enhancing UN practice.
Twenty-eight heads of UN special political missions and peacekeeping operations took part in the seminar. Headquarters officials included the Head of the Department of Political Affairs, the Head of the Department of Peacekeeping Operations, the Head of the Department of Field Support, Senior Advisors to the Secretary-General, the Assistant-Secretary-General for Peacebuilding Support, with the High Commissioner for Human Rights, the Deputy High Commissioner for Human Rights, the Deputy High Commissioner for Refugees, and others. The African Union Commissioner for Peace and Security also participated in the exchange and deliberations.
UN Secretary-General Ban Ki-moon engaged in a dialogue with his senior advisors and heads of peace missions on challenges and opportunities facing the Organization.  The vital importance of preventing violent conflict, of engaging in effective peacemaking that contributes to sustainable peace, and the promotion and protection of fundamental rights were stressed.  
The Departmental Heads of Mission Conference was also organized immediately after the seminar to further discuss priority areas.
The Institute is grateful to the Federal Department of Foreign Affairs of Switzerland, the Ministry for Foreign Affairs of Sweden, and the Ministry of Foreign Affairs of Norway for providing the support that made possible these high-level exchanges of knowledge and experience among senior United Nations peacemakers.