Enhancing African Capacities in Peacemaking and Conflict Prevention
"I will endeavour to put myself in the shoes of others in order to understand their points of view to enable me to make informed decisions. I learnt that the views of others matter in the resolution of conflict in every situation."

- Comment from official participating in the UNITAR Regional Training Programme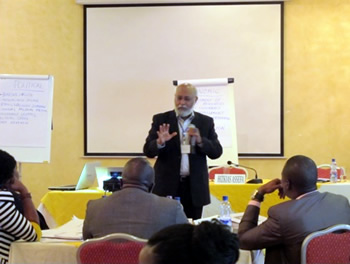 30 April 2015, Addis Ababa, Ethiopia - The thirteenth UNITAR Regional Training Programme to Enhance Conflict Prevention and Peacemaking in Africa concluded on 30 April 2015 in Addis Ababa. For the first time, the majority of officials completing the intensive training programme were women.
Twenty-six senior and mid level officials from Offices of Presidents, Member States of the African Union Peace and Security Council, Ministries of Foreign Affairs, the African Union Commission,  the United Nations Economic Commission for Africa, and from United Nations peace missions in north, northeast and west Africa took part.
Officials from across the continent deepened their knowledge and strengthened their skills in identifying root causes of conflict, engaging in interest-based problem-solving negotiation and mediation, and identifying principles of reconciliation. The programme shared the latest knowledge in conflict prevention and peacemaking including theory and practice sessions, simulations based on current conflict dynamics, and invited senior resource persons from the continent and beyond to share their experience, lessons and strategies.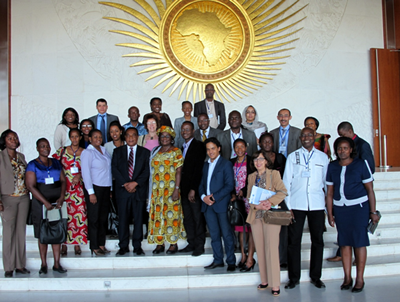 The participating officials visited the African Union Headquarters and engaged in an in-depth exchange with the staff of the Peace and Security Department.  The two-week training focused on conducting in-depth conflict analysis, strengthening listening skills and identifying mutually-beneficial solutions to resolving conflict to contribute to sustainable peace.  A former Special Representative of the Secretary-General addressed the group and presented case studies and trends in conflict prevention and peacemaking in Africa. Sessions on Women, Peace and Security were also highly appreciated by the group. 
The participants extended their gratitude to the funding governments which made this regional training programme possible – the Government of China, the Ministry for Foreign Affairs of Finland, the Ministry of Foreign Affairs of Norway, the Ministry for Foreign Affairs of Sweden, and the Government of Turkey.
---
Photo1: Senior Resource Person Professor Hizkias Assefa addressing participating officials
Photo 2: Participants visiting the African Union Headquarters with a former SRSG