Empowering Women in Intellectual Property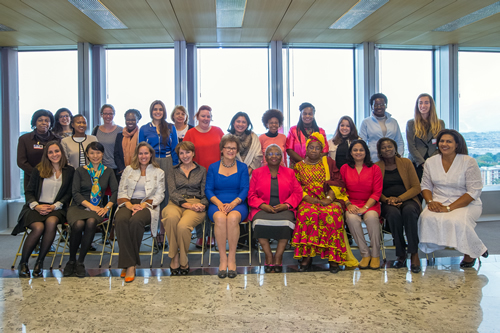 8 October 2016, Geneva, Switzerland - The United Nations Institute for Training and Research (UNITAR) and the World Intellectual Property Organization (WIPO) held the first women's leadership workshop for the female delegates attending the Fifty-Sixth Series of Meetings of the Assemblies of WIPO. The workshop took place in WIPO's headquarters in Geneva, Switzerland.
With 18 delegates from 16 countries worldwide, the workshop succeeded in providing a positive, empowering and engaging environment for learning, self-reflection and development and the building of a strong network amongst female professionals in the field of intellectual property. The workshop was organized in collaboration with WIPO and started with opening remarks by Ms. Cornelia Moussa, Director of the Human Resources Management Department at WIPO. In her speech, Ms. Moussa stated that the organization of this workshop stands in line with WIPO's commitment to promote gender equality in the field of Intellectual Property.
The facilitator of the workshop, Ambassador Tania Dussey Cavassini conducted several sessions which enabled participants to share each other's experiences. The diversity of backgrounds and opinions in the room played a key role in the group discussions and dynamics, as participants mentioned it was an "eye-opening workshop" and "a life changing experience".
During the workshop participants discussed several topics, including the skills required for effective leadership, what it means to lead as a woman, and the challenges and opportunities that women face as women leaders. The workshop was concluded with a high-level armchair discussion, with interventions from Ambassador Yvette Stevens, Permanent Representative of the Republic of Sierra Leone to the United Nations Office and other International Organizations in Geneva, Dr. Alicja Adamczak, President of the Patent Office of the Republic of Poland, and Ms. Cornelia Moussa. These senior women shared their inspiring personal experience, success, challenges and lessons-learned throughout their careers and their paths into leadership, notably in male dominated fields.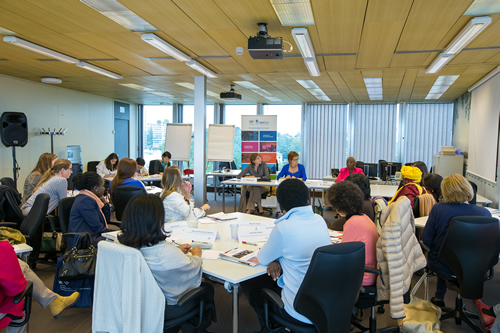 The participants were extremely pleased with the outcomes of the workshop, with one participant stating: "it has helped me to change my leadership style in a positive manner." The delegates expressed the need for more sessions on women's leadership and other specific skills, such as negotiation skills and gender bias, because "changing gender stereotypes is an ongoing process", considering "it will take time to change attitudes." The women delegate then encouraged WIPO and UNITAR to continue implementing this workshop in future assemblies as part of their efforts to raise awareness of gender disparity and to promote positive change.
---
For more information about the Women's Leadership Programme, please contact Ms. Melanie Cremona at womensleadership@unitar.org
---
© WIPO 2016. Photo: Emmanuel Berrod.