Geneva, Switzerland, December 2012 - From August 2011 to September 2012, mercury releases inventories were developed in Cameroon, Ethiopia, Gabon, Kenya, Nigeria, South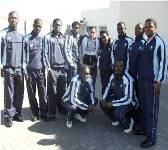 Africa, Zambia, Mali and Tanzania, supported by UNEP and with the assistance of GroundWork (a South African based NGO) and UNITAR. This initiative, with the financial support from the Governments of Norway and Switzerland, follows the global efforts to identify and address mercury emissions that can present a hazard to human health and the environment. The Governing Council of UNEP is currently negotiating a global legally-binding instrument on mercury as it has been identified as a chemical of global concern. The mercury releases inventories inform national policy-making towards the current negotiations and also provide a baseline for national mercury management.
As part of the project, a training workshop was held in Nairobi in September 2011 for technical officers of the partner countries on the use of UNEPs simplified Toolkit for Identification and Quantification of Mercury Releases (Level 1), which was developed in 2010. GroundWork supported the technical work in countries, together with Mr. Jacob Maag, COWI , author of UNEPs toolkit, to develop the mercury inventories.
The project was completed in September 2012. Preliminary results were presented in a lunchtime discussion during the 4th meeting of the Intergovernmental Negotiating Committee to prepare a legally binding instrument on mercury (INC4), held in Punta del Este on 27 June - 2 July 2012. The lunch discussion involved the participation of 80 stakeholders at the INC and significant interest to develop mercury emissions inventories was expressed by other countries and regions. UNEP, GroundWork and UNITAR expect to continue collaboration to provide support to other countries on this important topic.
Photo credit: Jakob Maag
Relevant link: