Climate Classroom @ Geneva Global Goals Innovation Day
24 March 2017, Geneva, Switzerland - After their success at COP22 in Marrakesh, the Climate Classroom popped up in Geneva to showcase a climate learning innovation and offer a chance to the diverse social innovation community in Geneva to think together about solutions to Sustainable Development Goal 13 (SDG13), "Take urgent action to combat climate change and its impacts."
Keeping abreast of the newest developments in climate change is essential to make timely, effective and sustainable decisions. Yet, adequate time and space for learning are rarely accessible for busy delegates, decision-makers and full-time working professional. This is why we have developed the Climate Classroom - a mobile learning space that 'pops up' at the center of major climate change conferences and related events. The Climate Classroom offers focused 45-min learning sessions on highly relevant climate change topics delivered by selected experts.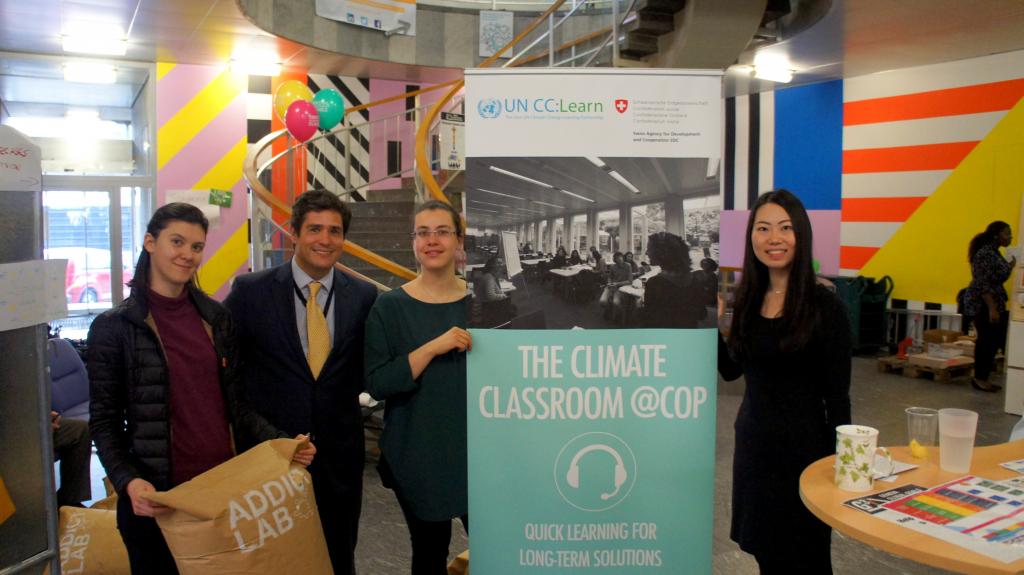 The Classroom was organized at Solutions Fair in the 2017 edition of the Geneva Global Goals Innovation Day (G3ID) on 24 March 2017, which is a one-day event promoting innovation for the radical acceleration of the Global Goals. Two sessions were held at 12pm and 5:30pm, and about 40 people participated in total.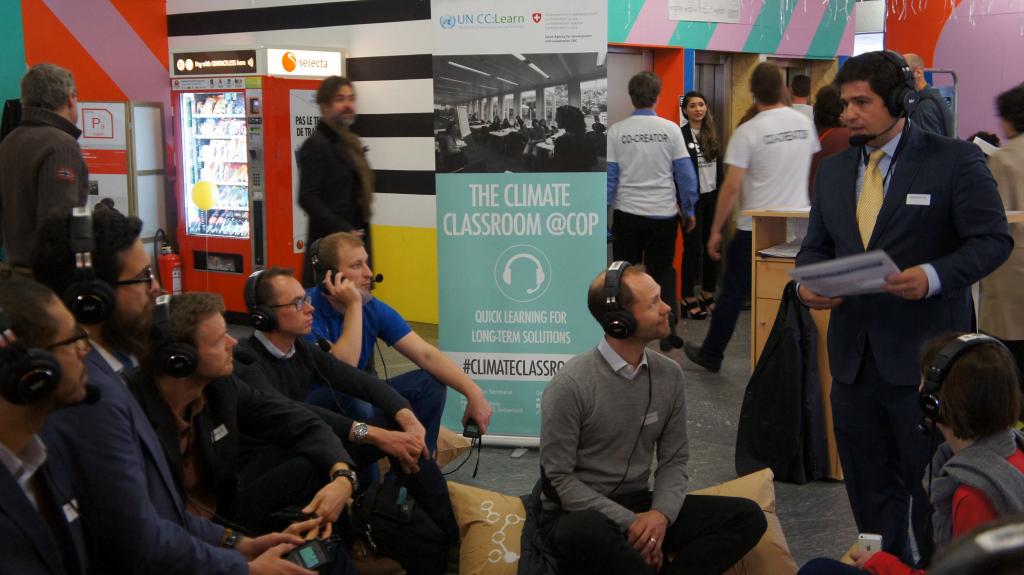 The Classroom's topic was the Climate Finance Puzzle, and Mr. Marcio Schittini, a renewable energy entrepreneur and private finance expert, presented a new perspective for the role of the private sector in the field of climate change mitigation and adaptation. 
---
Related links
More photos available on Flickr
Geneva Global Goals Innovation Day
---
About UN CC:Learn
UN CC:Learn is a partnership of more than 30 multilateral organizations supporting countries to design and implement systematic, recurrent and results-oriented climate change learning. At the global level, the partnership supports knowledge-sharing, promotes the development of common climate change learning materials, and coordinates learning interventions through a collaboration of UN agencies and other partners. At the national level, UN CC:Learn supports countries in developing and implementing national climate change learning strategies. Through its engagement at the national and global levels, UN CC:Learn contributes to the implementation of Article 6 of the UNFCCC on training, education and public awareness-raising, and the 2012-2020 Doha Work Programme.  Funding for UN CC:Learn is provided by the Swiss Government and UN partners. The Secretariat for UN CC:Learn is hosted by the UN Institute for Training and Research (UNITAR).
---
Photo 1: UNITAR's Climate Classroom Team: Elena, Marcio, Cristina and Junko (Left to Right).
Photo 2: Participants listen and contribute to the classroom via professional sound-proof headsets.
Photo 3: Participants focus on listening to the classroom via professional sound-proof headsets.