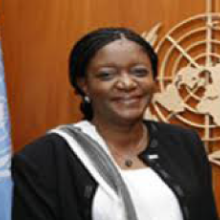 Special Representative of the Secretary-General on Sexual Violence in Conflict
Zainab Hawa Bangura of Sierra Leone assumed her position as Special Representative of the Secretary-General on Sexual Violence in Conflict at the level of Under-Secretary-General on 4 September 2012. In this capacity, she serves as Chair of the interagency network, UN Action Against Sexual Violence in Conflict (UN Action).
Ms. Bangura has over 20 years of policy, diplomatic and practical experience in the field of governance, conflict resolution and reconciliation in Africa. She served most recently as Minister of Health and Sanitation for the Government of Sierra Leone, and was previously Minister of Foreign Affairs and International Cooperation, the second woman in Sierra Leone to occupy this position. She was also Chief Adviser and Spokesperson of the President on bilateral and international issues. Ms. Bangura has been instrumental in developing national programmes on affordable health, advocating for the elimination of genital mutilation, managing the country's Peace Building Commission and contributing to the multilateral and bilateral relations with the international community. She has deep experience engaging with State and non-State actors on issues relevant to sexual violence, including engaging with rebel groups.
Ms. Bangura has on-the-ground experience with peacekeeping operations from within the United Nations Mission in Liberia (UNMIL), where she managed the largest civilian component of the Mission, promoting capacity-building of government institutions and community reconciliation. She is an experienced and results-driven civil society, human and women's rights campaigner and democracy activist, fighting corruption and impunity, notably as Executive Director of the National Accountability Group, Chair and Co-founder of the Movement for Progress Party of Sierra Leone, as well as Coordinator and Co-founder of the Campaign for Good Governance.
She has received numerous national and international awards, including the Africa International Award of Merit for Leadership, the Reagan-Fascell Democracy Fellowship, the Bayard Rustin Humanitarian Award, the Human Rights Award from the Lawyers Committee for Human Rights, the National Endowment for Democracy's Democracy Award, and the African American Institute's Distinguished Alumna Award.
Ms. Bangura is a former fellow of the Chartered Insurance Institute of London, with Diplomas in Insurance Management from the City University Business School of London and Nottingham University. She received her Bachelor of Arts from Fourah Bay College, University of Sierra Leone.