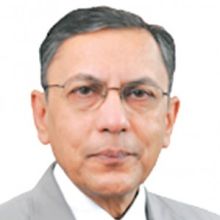 Former India's Ambassador to Hungary, Vietnam, and Nepal
Mr. Ranjit Rae is an Indian diplomat with over 30 years of experience in the Indian Foreign Service, which includes participation in complex negotiations both at bilateral and multilateral levels and extensive work in conflict areas/crisis situations. Having started his career path in Vienna, where he acquired proficiency in German, he has since held various positions in international and state organizations/bodies, including the Permanent Mission of India to the United Nations, the UN Advisory Committee on Administrative and Budgetary Questions (ACABQ), as well as Offices of the Minister of External Affairs and of the President of India, where Mr. Rae served as a Press Secretary to the President. As a Senior Policy Advisor to the UN Mission in Kosovo (UNMIK), Mr. Rae worked in close collaboration with the UN Assistant Secretary General within the Department for Peacekeeping Operations (DPKO) on issues related to field operations.
 
In his past role as a Joint Secretary (North) at the Indian Ministry of External Affairs, Mr. Rae was closely associated with the development of the 12-point agreement signed in 2005 in New Delhi between then seven-party Alliance of Nepal and the CPN (Maoist). The pact initiated the peace process in Nepal, encouraged Maoist rebels to join the peace process and made the first Constituent Assembly elections a reality. Those efforts culminated in the Comprehensive Peace Agreement in 2006.
 
Recently, Mr. Rae has served as Ambassador of India to Hungary (with concurrent accreditation as Ambassador to Slovenia, Bosnia and Herzegovina) (2006-2010) and then Ambassador of India to Vietnam (2010-2013), where he reinvigorated bilateral defence and trade cooperation. He was also a member of the Commonwealth High Level Group on Governance established by Commonwealth Heads of Government at their Summit in Malta in 2015. Until early 2017, Mr. Rae was the Ambassador of India to Nepal, using his tenure to revitalise the bilateral relationship and to actively work on the implementation of the Comprehensive Peace Agreement with Nepali political leaders and other stakeholders.
 
Mr. Rae holds a Post-Graduate Degree in Economics with a strong grounding in organizational matters, including strategic planning, budgeting and personnel issues.