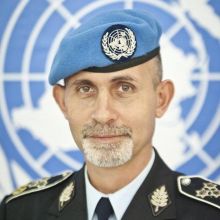 Former Police Commissioner of United Nations Multidimensional Integrated Stabilization Mission in the Central African Republic (MINUSCA), the United Nations Stabilization Mission In Haiti (MINUSTAH) and the Integrated Mission in Timor Leste (UNMIT)
Mr Luis Miguel Carrilho took up his functions as Police Commissioner of the United Nations Multidimensional Integrated Mission Stabilization in Central Africa Republic on 13 September 2014.
Police Commissioner Carrilho first joined the United Nations in 1996, working primarily on training of civilian police with the United Nations Mission in Bosnia and Herzegovina (UNMIBH) until 1998. In 2000-2001 he returned to UN peacekeeping with the United Nations Transitional Administration in East Timor (UNTAET).
At that time, Mr Carrilho served as the Director of the Timor-Leste Police Training College and as Spokesman for the United Nations Police Commissioner for UNTAET.
He was then appointed as Police Commissioner of the United Nations Integrated Mission in Timor-Leste (UNMIT), where he served from February 2009 to the end of the Mission on December 2012.
In January 2013 he was appointed Police Commissioner of the United Nations Mission Stabilization in Haiti and he served in that function UNTIL September 2014.
Mr Carrilho previously worked at the office of the President of the Republic of Portugal as the Head of Security, where he was responsible for overseeing the safety and security of the President and his Office.
He also served as the Commander of Close Protection of the Public Security Police, commanding the provision of security protection for national principals and foreign dignities visiting Portugal. In the late 1990s, he worked as the Chief of Cabinet of the Director of the Police College in Portugal.