15 July 2014, Nairobi, Kenya - Since the beginning of the year, UNOSAT is spearheading UNITAR efforts in spreading awareness on the role of satellite technology applications in the area of Disaster Risk Reduction. As preparations for the 3rd World Conference on Disaster Risk Reduction in March 2015 are about to enter their peak phase, experts and delegates gather in regional and thematic venues around the world to shape the new strategy that will guide nations to becoming more resilient in the face of disasters from 2015 onward.
The current Hyogo Framework for Action on DRR was adopted in Kobe, Japan, by the 2005 World Conference on Disaster Risk Reduction. The Framework recognizes the role of technology and of space applications, but today technology is no longer an add-on, it has become the very basis on which human action is implemented in all areas that affect life on the planet. UNITAR Research Director says: "Our message is that a good DRR strategy for the future ought to show a clear understanding of the role of technology in planning for and building resilience".
Since a few years UNOSAT experts are conveying this message to hundreds of natioanl experts through their in-country projects and training activities, especially in Africa and in Asia. Thanks to a partnership with ADPC and ESCAP supported financially by the government of Norway, UNOSAT is actively helping countries expand their use of satellite applications for resilience and emergency response. In Africa, UNOSAT is engaged in a multi-year capacity development programme for IGAD with support from Norway. UNOSAT experts are also working with Chad national authorities since 2013 in partnership with the Swiss Development Cooperation.
During the 5th Africa Regional Platform and 3rd Ministerial Meeting for Disaster Risk Reduction that took place in May in Abuja, Nigeria, UNOSAT conveyed its message on satellite applications to some 900 participants from government, regional economic communities, parliaments, civil society, and the private sector.

Roshni Dave from UNOSAT, based in Nairobi, discussed technology and geospatial information in various sessions of the conference, including at the Scientific, Technical and Academic Community preparatory consultation.  The session discussed good examples of partnerships in Africa between academic, science & technology actors and communities, local & national governments, international partners and private sector. Educational as well as technological innovations to advance risk reduction were presented as well. Some of these include the use of Geographic Information Systems and Remote Sensing to assess disaster risk.
The round table on 'UN Delivering as One for DRR – Implementing the UN Plan of Action on Disaster Risk Reduction for Resilience' was an opportunity to understand how the UN can assist national and local efforts to reduce disaster and climate risk. UNOSAT provides large amounts of analysis to UN agencies in emergency response but the demand is much less in the area of resilience and risk reduction. Satellite analysis can be a powerful ally in building integrated information systems on vulnerability and risk for better prevention.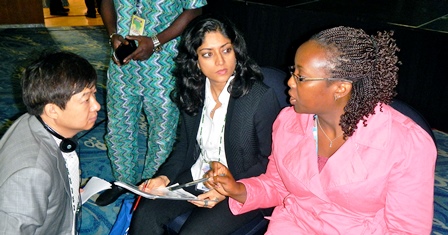 A special event on meteorological and climate services to support DRR featured presentations from the World Meteorological Organization (WMO), the Red Cross, Nigeria Meteorological Agency and the National Institute for Disaster Management (INGC) of Mozambique that demonstrated the considerable benefits of high-quality weather and climate services in support of risk management.  
The final day of the Conference hosted the 3rd African Ministerial Meeting, including the discussion of Africa's contribution to the post-2015 framework for DRR and the adoption of the Africa Declaration.
The 5th Africa Regional Platform was convened by the African Union Commission (AUC) and hosted by the Federal Republic of Nigeria, with support from Economic Community for West African States Commission (ECOWAS) and the United Nations Office for Disaster Risk Reduction (UNISDR).
----------------------------------------------------
Above: the conference plenary; below: Roshni Dave (center) with delegates to the conference.