Dear Reader,
This edition of UNITAR newsletter focuses on "Youth" - "Young people are the leaders of tomorrow." You have probably heard this phrase and it's absolutely true.  In fact, many of them are also the leaders of today. Youth are becoming increasingly aware of the challenges of our complex world and many are already joining the global dialogue on solutions, driving social progress and inspiring political change.

Provided with the necessary skills and opportunities to reach their full potential, young people can contribute to peace and security while supporting economic and social development. That's why we put a special focus on youth. Take a look at how we support them to make them feel a sense of ownership and motivation to contribute to achieving the Sustainable Development Goals.
Happy reading!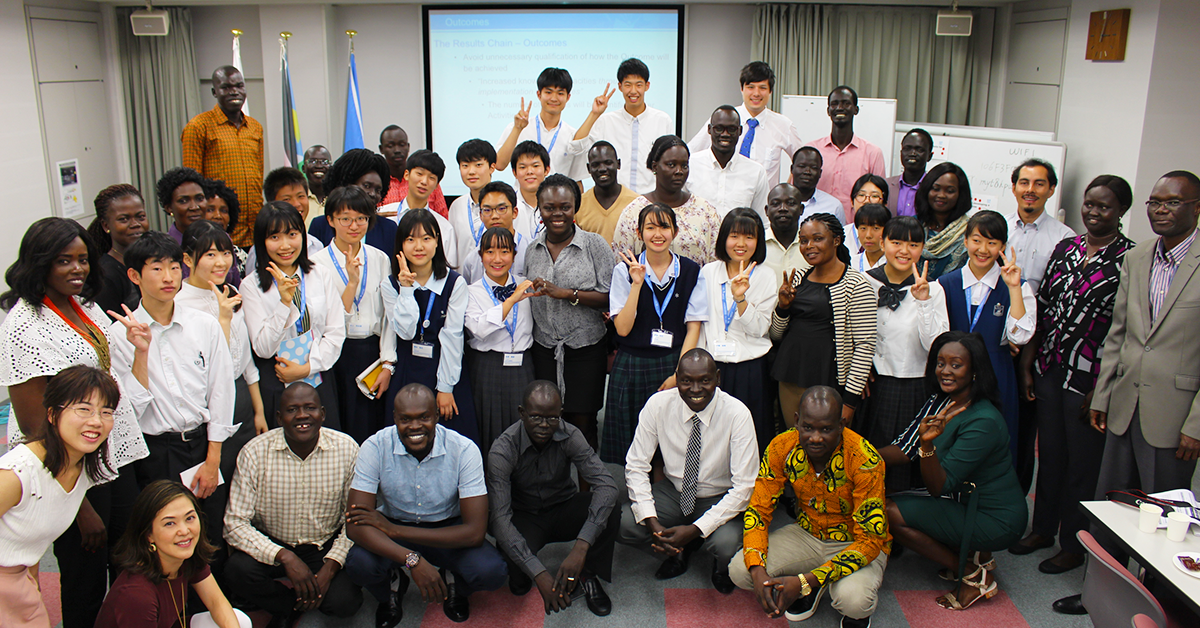 UNITAR HIROSHIMA YOUTH AMBASSADORS SUPPORT ACTION FOR CHANGE THROUGH THE SDGS
As one of UNITAR Hiroshima Office's major local engagement initiatives, the UNITAR Hiroshima Youth Ambassador Programme selects twenty students from local high schools in Hiroshima to learn more about the Sustainable Development Goals (SDGs) and connect globally with international experts in different fields.
UN CC:LEAN LAUNCHES EDUCCATE GLOBAL IN COLLABORATION WITH UK BASED HARWOOD EDUCATION TO TAKE CLIMATE CHANGE INTO THE CLASSROOM.

'How can we live more sustainably?' asks Bec Wakefield to her class of 4 to 5 year old from Down Hall Primary in Essex. Bec is one of the world's very first climate change teachers accredited by UN CC:Learn. A few months ago UN CC:Learn (hosted by UNITAR) initiated a new approach to climate change learning by associating with a UK based company (Harwood Education) with the aim to improve climate change literacy in the classroom by empowering teachers and students to better understand this issue and become part of the solution.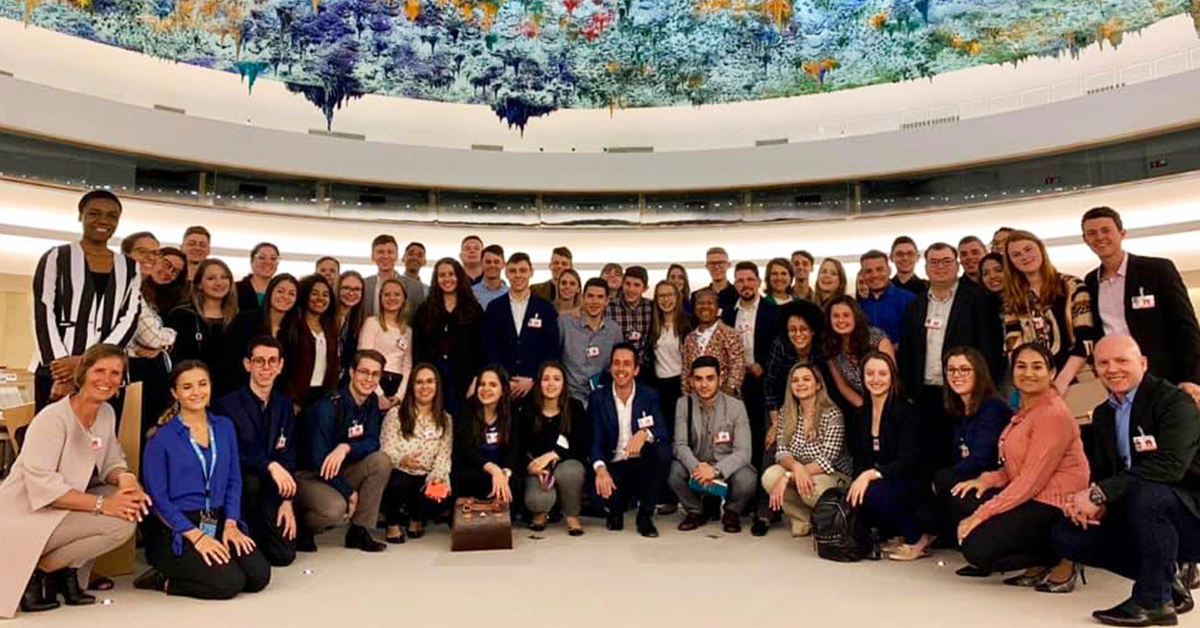 UNITAR WELCOMES INTERNATIONAL YOUTH TO THE UNITED NATIONS IMMERSION PROGRAMME
 The United Nations Institute for Training and Research is pleased to have welcomed several groups of international students and young professionals to the United Nations Immersion Programme (UNIP) this summer. The UNIP is designed to give young people across the globe an insight into the United Nations and multilateral diplomacy, providing them a platform to network and further their career development.
PAINTING THE FUTURE OF YOUNG PEOPLE IN COLOMBIA
Around the globe, there is currently a growing acknowledgement that young people can make meaningful contributions towards preventing violence and sustaining peace. However, especially in the context of conflict-affected societies, young people are still most commonly portrayed as either victims or perpetrators of conflict.
CIFAL CURITIBA PROMOTES DIALOGUE ON "INNOVATING 2030: THINKING ABOUT THE SDGS"
The International Training Centre for Authorities and Leaders in Curitiba (CIFAL Curitiba) jointly with the Federation of Industries of the State of Parana (FIEP) System and Faculties of Industry held a workshop on "Innovating 2030: Thinking about the SDGs" on 29 June 2019. This event provided a venue for dialogue amongst industrial automation and mechanical manufacturing students to think and discuss innovative solutions to social, environmental and economic problems.
UNITAR HOLDS THE SECOND COHORT OF THE UNITAR-HBMSU INTERNATIONAL LEADERS PROGRAMME
UNITAR's Division for Multilateral Diplomacy successfully hosted the second cohort of students from the International Leaders Professional Diploma Program in a 6-day in-depth workshop in Geneva from the 12th to 18th of June 2019.The International Leaders Program was launched as a result of the partnership between the Hamdan Bin Mohammed Smart University (HBMSU) and the United Nations Institute for Training and Research (UNITAR) with the vision to create a network of future leaders and empower them with the knowledge to build international influence, and shape foreign policy and international relations.
UPCOMING EVENTS AND LEARNING SOLUTIONS
BRAND-NEW e-LEARNING COURSE ON DIPLOMACY 4.0

UNITAR is pleased to announce the launch of its brand-new online course on Diplomacy 4.0- Beyond the Digital Frontier. The course charts a new direction for training in diplomacy by combining developments in Information Technology with a traditional human centred approach to diplomacy.
LEAVE NO ONE BEHIND
Driven by its commitment to delivering quality education to vulnerable populations and those supporting them in all parts of the globe, UNITAR, will convene its current and prospective partners in Geneva with the aim to hold a productive discussion on the ways to advance the universal access to quality professional education and training.
EMPOWERING WOMEN THROUGH FINANCIAL INCLUSION
UNITAR and the Arab Gulf Program for Development are organizing the VIII AGFUND Development Forum, including a global Symposium on "Empowering Women Through Financial Inclusion" and the Prince Talal International Prize Award Ceremony, to be held in Geneva, on 8-9 Oct. 2019.
UNITAR AND TOTAL SIGN AGREEMENT TO FACILITATE PLASTIC RECYCLING IN NIGERIA
The agreement, which was recently signed in Lagos, includes the setting up of a pilot plastic recycling plant which will be operated by indigenous plastics recyclers selected from Total E&P host communities, with grants provided by Total E&P as part of the company's corporate social responsibility
UNITAR AND HARVARD MEDICAL SCHOOLTO COOPERATE ON CAPACITY BUILDING
UNITAR and Harvard Medical School's Program in Global Surgery and Social Change (PGSSC) signed a three-year Memorandum of Understanding (MoU), committing to bringing surgical, obstetrical and anaesthesia care into the mainstream discussions of global health and offering innovative capacity-building tools to support the development of improved surgical care systems globally
UNITAR UNVEILS THE 1ST EDITION OF THE EXECUTIVE PROGRAM IN HONG KONG
UNITAR is delighted to unveil the first edition of the Executive Program in Global Leadership and Business Diplomacy, in partnership with the Global Institute of Excellence, a Hong Kong-based firm dedicated to advancing organizational and professional development.
UNITAR PARTNERS WITH STIRLING UNIVERSITY TO LAUNCH A MASTER'S IN HUMAN RIGHTS AND DIPLOMACY
UNITAR is pleased to launch the first edition of the Master's in Human Rights and Diplomacy in partnership with the University of Stirling. The University of Stirling is a highly prestigious university that is recognized globally for its excellence in teaching, research and offering a world-class student experience.