Building Capacity in LDCs for the Implementation of the 2030 Agenda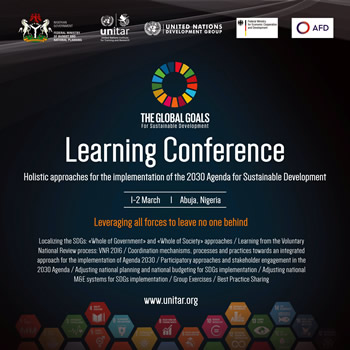 1 - 2 March 2017, Abuja, Nigeria - In the framework of its initiative "Capacity for the 2030 Agenda", UNITAR organized a learning conferences on "holistic approaches for the implementation of the 2030 Agenda" for African Least Development Countries (LDCs). This conference specifically targeted government officials from the 17 English-speaking African LDCs and took place in Abuja, Nigeria on 1 - 2 March 2017.
Giving us the best chance to achieve the SDGs
In September 2015, UN Member States adopted a milestone agreement outlining a new transformative vision and a set of Sustainable Development Goals (SDGs) to be achieved by all countries by 2030. As Governments prepare and start rolling out the 2030 Agenda at country level, there is high demand for a number of new processes and innovative solutions to meet the expectations instilled in the global agreement and ensure that sustainable development is implemented in an integrated and balanced manner and that no one is left behind.
The UNITAR learning conference "Holistic approaches for the implementation of the 2030 Agenda" provided a practical learning and knowledge-sharing space for senior government officers in charge of leading the process of mainstreaming the SDGs in LDCs.
It was organized in partnership with the Nigerian Federal Ministry of Budget and National Planning, the Deutsche Gesellschaft für Internationale Zusammenarbeit (GIZ), the Agence Française de Développement and the United National Development Group.
This conference is part of a longer-term strategy of UNITAR to provide learning and knowledge support to LDCs on mainstreaming the SDGs and promoting policy integration.
Knowledge exchange
On top of international facilitators and speakers, the main highlight of this conference was represented by its interactive nature, where participants contributed with their own experience and expertise to the learning of others. 74 participants coming from 18 different countries shared their experience of implementing the 2030 Agenda during each of the sessions organized as part of the conference.
Indeed, it was emphasized that the 2030 Agenda is transformative and new for every country and that there is no right or wrong way to mainstream it; only different experiences that can be shared and tailored to different local situations.

---
Conference resources
The conference tackled a variety of topics, which all contribute to building "holistic approaches for the implementation of the 2030 Agenda". A Participant's Work Book was produced to enable practical exchange and learning around focused sessions. All the conference resources are available on this web page (see below), as well as on UNITAR's Capacity for the 2030 Agenda website.
Participant's Work Book – UNITAR Learning conference: Holistic approaches for the implementation of the 2030 Agenda
Links to presentations
Localizing the SDGs: "whole of government" and "whole of society" approaches
Promoting integrated decision-making: coordination mechanisms, analytical tools, processes and practices
Dr Matteo Pedercini, Millenium Institute, iSDG: a Tool for Policy Integration and Analysis of Synergies
Mr Edward Joshua, Malawi Ministry of Economic Planning and Development, Sustainable Development Goals (iSDG), the case of Malawi
Multi-stakeholders platforms for the implementation and review of the 2030 Agenda
Ms Soraya Zanardo, UNITAR, Engaging stakeholders for the implementation and review of the 2030 Agenda
Holistic approaches to Agenda 2030 and Agenda 2063
Dr Bartholomew Armah, UNECA, Coherent and integrated Implementation of the SDGs/Agenda 2063
Financing for the SDGs and budgeting overview
Dr Patrick Osakwe, UNCTAD, Means of Implementing the SDGs in African LDCs: Stylized Facts and Policy Options on Finance, Trade and Technology
Mr Khwima Nthara, World Bank Group, From Commitment to Delivery, Catalyzing Resources for Development
The 2030 Agenda and the role of national Monitoring & Evaluation
Ms Sophie Conteh, UNDP Regional Bureau for Africa, The 2030 Agenda and the role of national M&E systems: Context and overview
Mr Mohamed Moalim, Somalia Federal Ministry of Planning and International Cooperation, Somalia National Development Plan and Data ecosystem for Sustainable Development
---
More information:
Contact: a2030@unitar.org
Website: http://www.unitar.org/thematic-areas/capacity-2030-agenda