UN CC:LEARN HIGHLIGHTS THE IMPORTANCE OF CLIMATE CHANGE EDUCATION AT COP25
During the 25th Conferences of the Parties (COP25) to the United Nations Framework Convention on Climate Change (UNFCCC), held in Madrid, Spain on 2-13 December 2019, UN CC:Learn co-led the organization of the One UN Side Event on Climate Change Education titled "Learning for Climate Action", which took place on Thursday, 12 December 2019. This event was designed to highlight the tangible contributions that learning, skills development and investment in climate-resilient education systems are making towards concrete and ambitious climate action as well as discuss opportunities to scale-up and enhance ambition.
UNITAR'S LEARNING SOLUTIONS - THE GATEWAY TOWARDS QUALITY AND INNOVATION IN LEARNING
Making the world a better place is no easy task. What can help all the motivated, talented, inspirational individuals around the globe to make a meaningful and sustainable contribution to our common Agenda 2030? Training is the answer. Training – at the heart of the UNITAR's mandate in capacity building – is an overly used yet profound notion. When carefully and thoughtfully designed and delivered, it has the power to radically transform mindsets, attitudes and behaviours of the whole society.
THE CLIMATE CLASSROOM PROVIDES COP25 DELEGATES
WITH AN "ESPRESSO" SHOT OF CLIMATE LEARNING
For the fourth consecutive year, the Climate Classroom provided an opportunity to COP participants to get up to speed on key climate change topics through 45-minute learning sessions. The classes provide highlights in key climate change areas for busy delegates to be better prepared when joining discussions and events at COP25 of the UNFCCC, held in Madrid, Spain in December 2019, and beyond.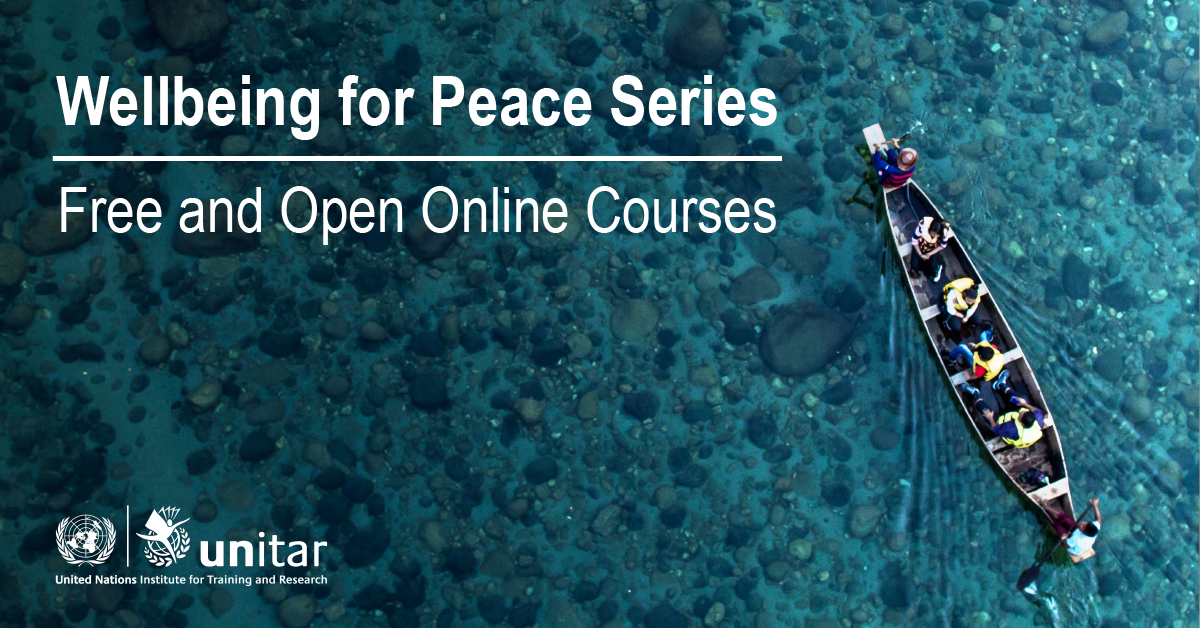 "WELLBEING FOR PEACE" SERIES – ONLINE SELF-CARE TRAINING FOR HUMANITARIAN WORKERS
While many individuals and organisations all over the world strive for social impact, an increasing number of people working towards such causes are suffering from burnout, stress, depression and lack of fulfilment in the workplace. Ultimately, this hurts not only those individuals and organisations but also those social causes which they are working towards. This underlies the importance of the role which inner work has to play when it comes to creating effective and impactful change in the world.
WORKSHOP ON BUSINESS AND HUMAN RIGHTS

UNITAR's Division for Multilateral Diplomacy delivered a two-day workshop entitled Business and Human Rights: Key to Achieving the SDGs on the 5th and 6th of December at the Palais des Nations in Geneva, Switzerland, with some 60 participants from governments, business, civil society and other stakeholders. The overall objective of the workshop was to help participants gain a thorough understanding of the Business and Human Rights agenda and provide leadership perspectives on the potential and challenges to implement the UN Guiding Principles as an essential means to achieving the Sustainable Development Goals (SDGs).  
UPCOMING EVENTS AND LEARNING SOLUTIONS
EMPOWERING WOMEN THROUGH FINANCIAL INCLUSION
The course is designed to respond the learning needs of climate services providers (National Hydro-meteorological Services, research/academic and international organizations), and users (e.g. decision-makers, private investors, non-governmental organizations), as well as of those working at the science-policy interface for outreach or communication purposes. The training is modular, free of charge and you will be able to choose and combine different thematic modules. 
ONLINE COURSE ON HUMAN RIGHTS AND ENVIRONMENTAL PROTECTION

In light of the UN Climate Change Conference (COP25) that is taking place in December 2019, the interdependence between both fields has never been more relevant. The course covers the basic principles and concepts of human rights, the SDGs with emphasis on the goals and targets most relevant to environmental protection, and the relationship between human rights and the environment in consideration of the recent scientific and legal developments.
MODULE 5 OF THE GENDER AND ENVIRONEMENT E-COURSE IS AVAILABLE!
UN CC:Learn launched a new free e-learning module on Gender and International Waters which discusses the importance of taking gender considerations into account to ensure the sustainable management of such resources. The module includes an interactive lesson, with videos, relevant statistics, case studies, exercises, key messages and references to additional resources. An offline version is also available for self-study or training purposes.
UNITED NATIONS IMMERSION PROGRAMME - WINTER EDITION
As part of the training activities implemented during the summer months, UNITAR designed a blended programme consisting of a 4-weeks e-Learning course followed by 5-day field visit to Geneva, offering participants a full immersion into the United Nation's multilateral working environment.
UN SDG:Learn PLATFORM
UN SDG:Learn is a UN initiative that aims to bring relevant and curated learning solutions on sustainable development topics to individuals and organizations. Through the collaborative efforts of several entities, UN SDG:Learn provides a unique gateway that empowers individuals and organizations through an informed decision when selecting among a wealth of SDG-related learning products and services that are currently available.
UNITAR AND KUDELSKI SECURITY PROVIDE A WORKSHOP ON DIPLOMACY 4.0 FOR GENEVA PEACE WEEK 2019
UNITAR, in partnership with Kudelski Security, was pleased to provide a face-to-face training workshop to officials from governments, academia and international NGOs in the context of the Geneva Peace Week 2019. The workshop's content was Diplomacy 4.0, UNITAR's new concept addressing the intersection between diplomacy and recent technological and scientific advances.
UNOSAT AND THE UNITED NATIONS TECHNOLOGY BANK FOR LEAST DEVELOPED COUNTRIES
UNOSAT and the United Nations Technology Bank for Least Developed Countries entered into a cooperation agreement aimed at developing capacities of least developed countries in Africa, Asia and the Pacific region on the use of geospatial information technologies for disaster risk reduction, environmental sustainability and climate change adaptation. The UN Technology Bank is dedicated to build capacity to access and use science, technology and innovation for sustainable development in the world's least development countries.
UNITAR AND PARTNERS LAUNCH NEW MOBILE APPLICATION ON WHO SURGICAL SAFETY CHECKLIST
The United Nations Institute for Training and Research (UNITAR), the World Health Organization (WHO), the United Nations International Computing Center (UNICC) and the Harvard Medical School Program in Global Surgery and Social Change (PGSSC) are partnering to promote a new mobile application for the WHO's Surgical Safety Checklist, which is destined to facilitate its use among healthcare professionals.
ONE MILLION YOUTH LEADERS BEYOND 2030 (1M2030)
UNITAR and the Global Challenges Forum Foundation (GCF) are partnering to promote a new youth capacity-building initiative by creating an umbrella for fragmented, siloed, and left-behind efforts on youth empowerment. Additionally, they joined forces to host the launch of the One Million Youth Leaders Beyond 2030 (1M2030) initiative on the 27th of September, at the Palais des Nations in Geneva, Switzerland. 
UNITAR EXPANDS COOPERATION BAKU HIGHER OIL SCHOOL
Through a project entitled "Capacity Building in Nigeria's Oil & Gas Industry", which is implemented by the United Nations Institute for Training and Research (UNITAR), seven Nigerian students are given the opportunity to pursue a bachelor's degree at Baku Higher Oil School (BHOS), a leading university in Azerbaijan.