21 December 2013, Geneva, Switzerland - As Humanitarian Coordin
ator in Jordan, Andrew Harper travels frequently to camps sheltering Syrian refugees. The situation in many of these camps is often harrowing, but nothing like the past few days, when cold weather and snow blizzards hit parts of Jordan and the West Bank, brought by storm "Alexa", which moved through the Middle East region from about 12 to 14 December. In one of his comments posted on Twitter, Mr Harper writes"it was said that this is the worst storm in 60 years. I believe it".
UNOSAT used satellite imagery to map the extent of the snow cover after the passage of the blizzard. The map illustrates the impact of the bad weather and show that the largest refugee camp in Jordan, Al-Zaatari, was luckily spared. The satellite derived ove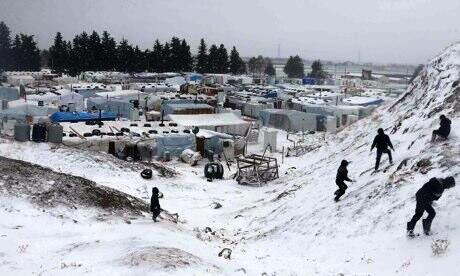 rview was also useful to assess the risk of possible flooding once the snow starts to melt.
The melting snow added to the intense rainfall of the previous days and caused serious flooding in Gaza. UNOSAT requested the triggering of the International Charter Space and Major Disasters on 17 December and elaborated disaster impact maps using imagery from French satellite Pleiades. The analysis, requested by OCHA, is being used by various agencies active in Gaza and in the region.
-----------------------------------------------------------------------------------
Photos credit A. Harper. Above, Humanitarian Coordinator Andrew Harper with Senator McCain in Washington DC in December 2013. Below, Syrian refugees struggle in a snow covered camp.