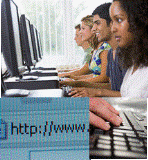 31 January, 2014, Geneva, Switzerland. Registration for UNITAR's 2014 online courses related to Finance and Investment is now open. This year, you will acquirepractical knowledge on the typical challenges that you are faced with every day as an official or an entrepreneur striving for success. Inthese times of uncertainty and volatility, finance and investment have become sensitive matters. UNITAR is dedicated to delivering high-level e-Learning courses by top-level experts on these important subjects in a flexible and interactive way. Our e-Learning courses allow you to interact with other participants, to exchange ideas, and to ask questions to the facilitators. Our experts all come from different backgrounds, which contribute to the richness of our courses.
UNITAR has more than two decades of experience in developing and delivering executive training for finance professionals. In 2003, the Institute started introducing e-Learning activities to offer quality and affordable training to a wider audience. Since then, over 10,000 officials and professionals primarily in developing countries and economies in transition have benefited from our courses.
Our online courses are designed according to adult learning principles and structured in a flexible and interactive manner to meet your needs as a senior or middle level official or professional with a busy schedule.
Below are two comments received from two participants in one of our courses (through anonymous end-of-course survey).
"The content was exhaustive, lucid and easy to understand. The exercise and the quick responses from the Course Director made it truly interactive".
"This course has made me look at a lot of issues in my professional and personal life differently. I hope I will be able to apply the methodological techniques that I learnt in order to improve my negotiating skills".

The following online courses related to Finance and Investment are currently open for registration:
Fundamentals of Anti-Money Laundering: International Standards and Compliance Issues (10 March – 11 April 2014)
Fundamentals of Business Finance (07 April – 16 May 2014)
Leadership Skills for Finance Managers (06 May – 07 June 2014)
Fundamentals of the Life-Cycle and Investments (24 March – 25 April 2014)
LALIVE/UNITAR: Introduction to Investment Arbitration (07 April – 09 May 2014)

We encourage early registration as space is limited and acceptance is on a rolling basis. For additional information and to register online, please go to http://www.unitar.org/pft/events.
For general inquiries, please email us at pft-training@unitar.org.