December 2013, Nairobi, Kenya - The demand for UNOSAT courses has constantly grown in recent years mainly due to the practical type of training provided and the careful crafting of each course using data and methodologies adapted to each group of national beneficiaries.

After establishing a presence in Asia, hosted at ESCAP in Bangkok, UNOSAT has confirmed its commitment to serving African countries by establishing a presence in Nairobi. The office is hosted by the UN Office for Disaster Risk Reduction (UNISDR) in a partnership context that UNITAR sees as strategic in the years to come.
Sharon Rusu, the Head of the UNISDR Regional Office for Africa, says: "In Africa, where disaster losses mount yearly, partnering with UNOSAT has its advantages. Offering specialist training and technical support, UNOSAT fills an important niche in the geospatial community through practical satellite analysis and GIS solutions. UNISDR supports UNOSAT in its mission to bring the force of its geospatial expertise to risk-sensitive disaster management in a changing climate".

UNITAR and UNISDR consider that the current space-sharing arrangement with UNOSAT at the UNISDR Regional Offices for Africa offers co-benefits in mutual learning, risk knowledge transfer and networking. UNITAR Director of Research, Technology Applications and Knowledge Systems Francesco Pisano says "Disaster Risk Reduction is a strategic element in several global agendas being pushed at the UN. We see the partnership with UNISDR and its stakeholders as a strategic area for the next 10 years. Other UNITAR programmes will follow UNOSAT in developing DRR contents".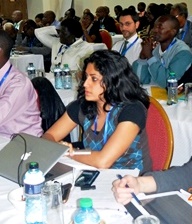 From Nairobi, UNOSAT coordinates its cooperation programme with IGAD and its member states and is planning to expand its DRR capacity development programme further in the coming years. Roshni Dave is the UNOSAT expert based in Nairobi. She says: "The cooperation with IGAD is important for the Horn of Africa because it gives countries technical capacity to benefit from geospatial technology. Countries in this region are very hands-on and it is impressive to see how regional cooperation and information sharing contribute to the use of geospatial technologies for disaster risk reduction". Talking about the future challenge for UNOSAT in the region, Roshni said "We need more partnerships between government agencies, meteorological departments and academia to strengthen the application of GIS and remote sensing tools and methodologies. Establishing a regional geo-database could be a good initiative in the near future".

Images of the UN Office in Nairobi counrtesy of UNON. Bottom image: Roshni Dave of UNOSAT leads the coordination work in Nairobi.