16 July 2013, United Nations, New York - The High Commissioner for Refugees was among the UN high level speakers who briefed the UN Security Council on the degradation of the humanitarian situation in Syria. The Chief of UNHCR said: "We have not seen a refugee flow escalate at such an alarming rate since the Rwandan genocide." Lebanon and Jordan bear the heaviest burden, while the impact on Iraqi Kurdistan and Turkey is also very high. The total of Syrians who have fled violence in their country is now estimated at 1.7 million people, according to OCHA figures.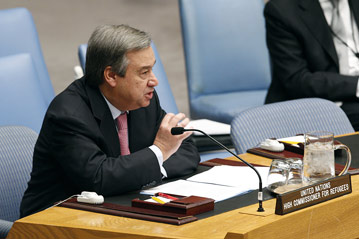 UNOSAT has been very instrumental in monitoring the influx and location of Syrian refugees in need of international humanitarian assistance, using just-in-time analysis of very high resolution satellite imagery. UNOSAT experts maintain satellite derived monitoring of several important refugee camps in neighbouring countries so that UNHCR and other humanitarian entities can plan their response and monitor their impact.
The satellite evidence on some of these camps corroborates the statements made by the High Commissioner for Refugees. In the case of the Al Zaatari camp in Jordan, UNOSAT had to resort to an innovative video-map to capture the fast paced evolution of the camp which is today the fourth largest human settlement in the country.
After calling for world leaders to end the conflict, UN special envoy Angelina Jolie has appeared in a UNHCR video discussing with Syrian refugees in Jordan. The video opens with the UNOSAT mapping analysis of the Jordan camp of Al Zaatari.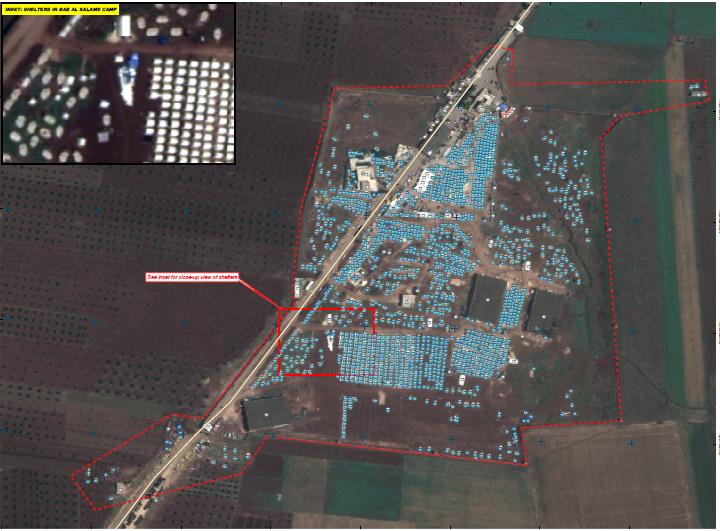 Another point of grave concern was expressed to Security Council members by the UN Emergency Relief Coordinator Valerie Amos, who said that the location of the most vulnerable Syrians was known, but humanitarian organizations were still unable to gain access to them due to the fighting, insecurity and other impediments. In this case too, rapid satellite analysis and monitoring helps humanitarian organizations to assess situations in locations impossible to reach and plan for better response avoiding loss of precious time and resources.
As time passes, the refugee crisis is having a considerable impact on the entire region. Mr Guterres said "The danger that the Syria conflict could ignite the whole region is not an empty warning. Measures must be taken now to mitigate the enormous risks of spill-over and to support the stability of Syria's neighbours".
Click here to watch UNHCR Video.
See current UNOSAT maps on the Syrian refugee crisis at this link.
---
Images: top, UN High Commissioner for Refugees Antonio Guterres addresses UN Security Council in New York (courtesy UNHCR). Bottom: detail of UNOSAT satellite analysis of one of the IDP camps sheltering Syrian displaced people.