11 February 2014, Geneva, Switzerland - Zimbabwe has been affected by heavy rains that resulted in deaths and displacement of people in parts of the country in early February. According to UN sources, damage to property is also important and the National Water Authority of Zimbabwe warned that the water level in dams across the country continues to rise.
UNOSAT was requested to help assess the extent of flood waters. To do so, the Team requested the triggering of the International Charter Space and Major Disasters, resulting in the acquisition of satellite data that is distributed free of charge to UNOSAT to realise maps for the humanitarian relief operations.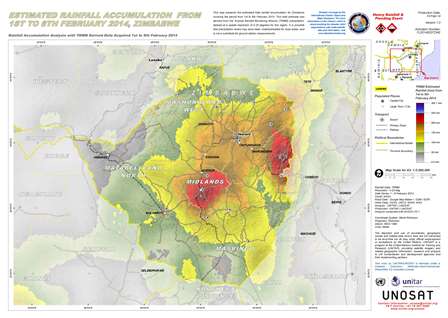 A first map released on 10 February showed important rainfall accumulation levels in parts of the country. A second analysis the next day confirmed the Water Authority's concern regarding growing water levels in the Masvingo Province, one of the most affected areas.
UNOSAT Rapid Mapping team may elaborate further maps depending on the satellite data coming in from the space agencies members of the International Space Charter.
----------------------------------------------------------------------------------------
Image: One of UNOSAT analyses shows peaks of rainfall accumulation in parts of the country.