UNITAR Holds Event with Stand Up Girls Empowerment Organization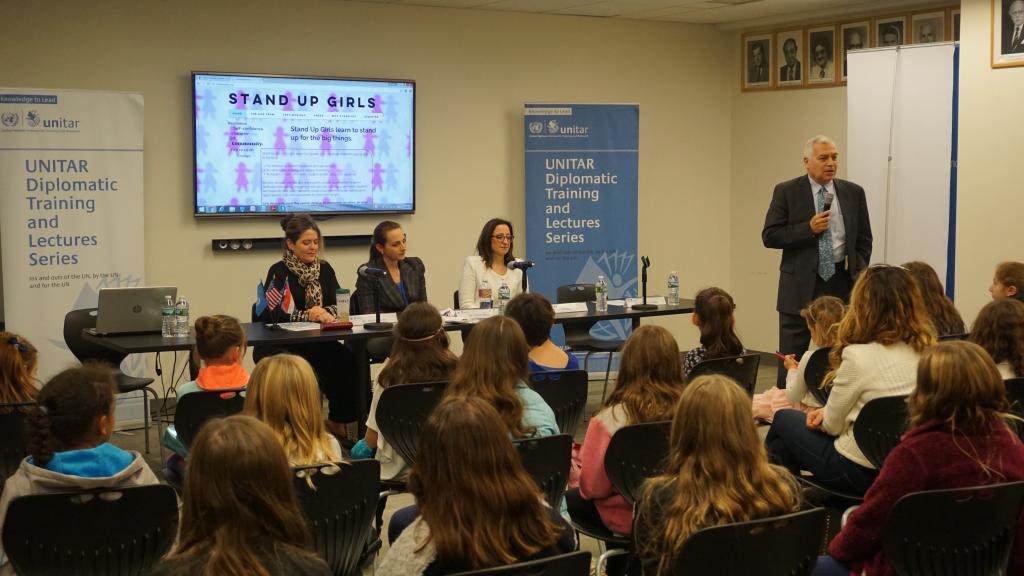 10 November 2016, New York, USA- The United Nations Institute for Training and Research (UNITAR) partnered with Stand Up Girls for an exciting event to educate young girls about the United Nations, and the roles that women play within the organization. In particular the Goals of the New Agenda 2030, goals (4) and (5) related to equitable and quality Education and Achieving Gender Equality empowering Women and Girls.
The event was part of a collaboration between UNITAR and Columbia Law School, which is being sponsored by the Permanent Mission of Sweden to the United Nations under the Programme "levelling the Playing Field".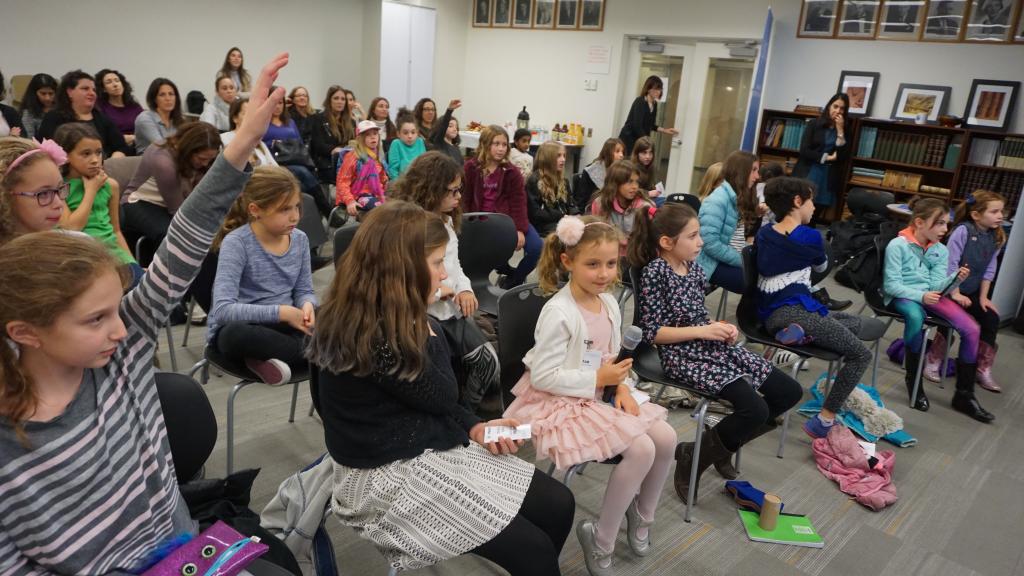 The event began with a presentation of the Panellists by Mr. Marco A Suazo Head of UNITAR New York Office, who introduced the members of the Panel, made a few introductory remarks, and welcomed the young girls and their mothers participating in the event. On behalf of UNITAR, Professor Carter from Columbia University and director of the Mediation Clinic at Columbia Law School, explained the work of the organization "Stand Up Girls", based in New jersey USA. She welcomed the young women to the United Nations and spoke to them about the importance of learning about women's' participation and leadership at the UN.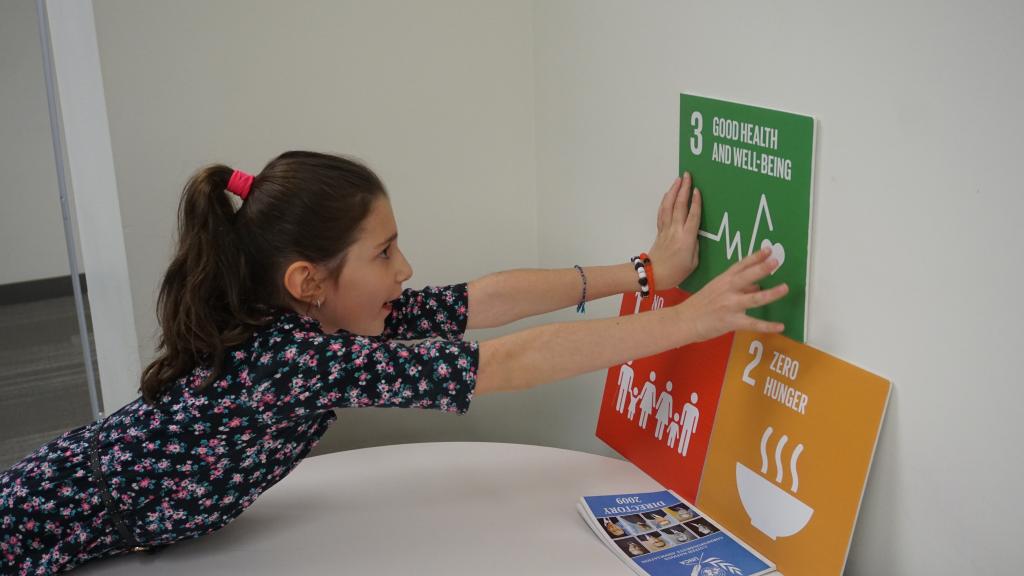 The next to speak was Ms. Patricia Chaves, senior sustainable development officer at the United Nations Division for Sustainable Development. Ms. Chaves first explained the importance of embracing diversity, giving an example of her own family composition. She later concentrated on the Sustainable Development Goals (SDGs), their meaning and objectives. Ms. Chaves focused on Goal 5 around Gender Equality, stressing the importance of women and girls being involved with the process of the SDGs. She ended the conversation by explaining how young girls could participate in promoting the SDGs in their daily lives.
The final speaker was Dr. Colleen Thouez, Senior Advisor to UNITAR and the UN SRSG for International Migration. Dr. Thouez spoke about the United Nations Charter as well as the kind of work the United Nations was created for to accomplish. She explained the basis for ideas such as Human Rights and International Cooperation. She also took questions from the girls about the application of these ideas in their daily lives.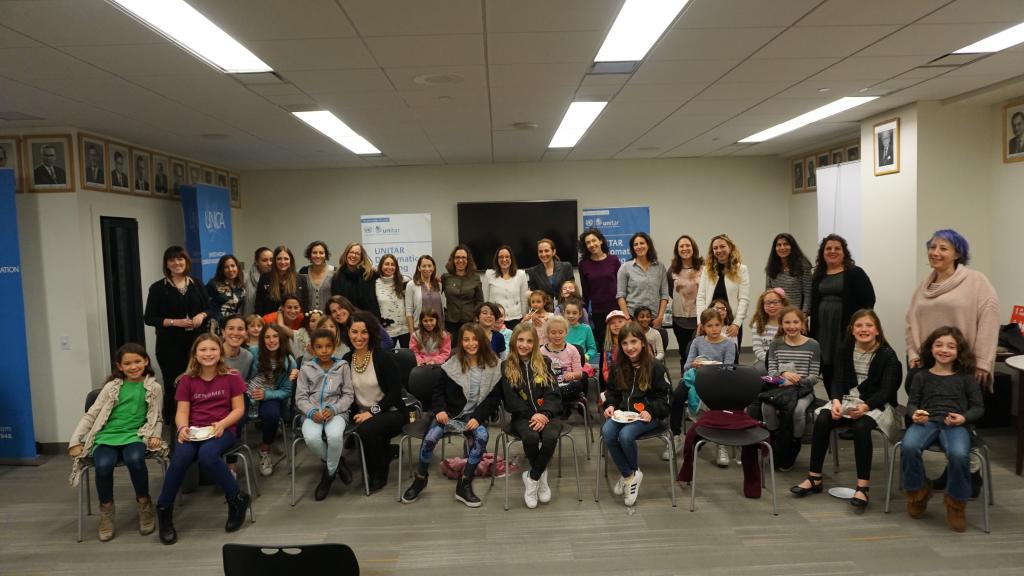 After a short break, the girls and their mothers were invited on a tour of the UN conducted by Ms. Laura Powers and Ms. Pelayo Alvarez, UNITAR staff. The girls were shown the UN Security Council, the General Assembly and the Trusteeship Council. They learned about the inner workings of the United Nations and were encouraged to ask questions about career paths as well as women in the UN system. The event was then concluded at the end of the tour.
---
Photo 1: Panelists speak to young participants
Photo 2: More than 25 young girls participated in the event
Photo 3: A participant posts signs describing the first three SDGs
Photo 4: Group photo with all panelists following the event