May 2014, Geneva, Switzerland – The third edition of the UNOSAT training on "Rapid Response Mapping in Disaster Situations" was delivered by expert trainers from 30 April to 02 May 2014 in Geneva. This special training is part of the CERG-C post-graduate specialisation of the University of Geneva in the field of geological and climate related risk.
UNOSAT and CERG have been collaborating for three consecutive years to offer post-grads students and professionals coming to Switzerland a valued opportunity to receive hands-on training on satellite imagery analysis for risk reduction and hazard mapping. This year 20 disaster management professionals attended the course including the UNOSAT training.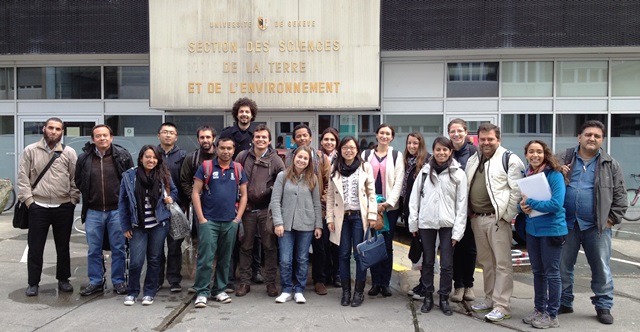 The UNOSAT segment of the course is designed to provide training participants with concepts and GIS methodologies to perform satellite based rapid response mapping and damage assessment including understanding the benefits and limitations of using geo-spatial information technology in the immediate aftermath of a disaster. The course is based on the UNOSAT successful formula featuring a blend of lectures, GIS lab exercises and group discussions on real-case datasets from recent disasters. During the learning experience, participants go through practical hands-on exercises to acquire skills in geospatial information technology applied to preliminary damage assessment and other situations.
By the end of the training, participants were able to explain the role of Geo-information in the response phase of a disaster; gain awareness of GIS methodologies related to the rapid mapping processing chain to support emergency response; identify, access, search, collect, organize and analyze geospatial data for emergency response mapping and. apply basic GIS methodologies to perform impact analysis and preliminary damage assessment in the immediate aftermath of a disaster.
The evaluation of the learning experience by students showed that they valued the practical orientation and the applicability and relevance to professional rapid response mapping and damage assessment. "This course was very useful for me. I have a stronger awareness and basic knowledge of certain applications", said one of the students.

------------------------------------------------------------------------------------------
Photo: The students together with UNOSAT training experts Khaled Mashfiq, Xuanmei Fan and Mauro Arcorace who delivered the training.