On April 3, 2014 the company UrtheCast announced its first release of Earth imagery captured by its medium-resolution camera installed outside the body of the International Space Station (ISS). Scott Larson, founder and Chief Executive Officer, described the event as "a pivotal moment for the company and for everyone who's been a part of the vision that we set in motion in 2010".
At the beginning of the venture, UrtheCast and UNOSAT agreed to partner to ensure that the imagery and videos produced by the cameras to be installed aboard ISS could also be used for the greater good. Francesco Pisano, Director of Research at UNITAR recalls: "when Scott Larson came to see us it was immediately clear that his team was very determined and that the idea was worth pursuing. It was very appealing to us and in tune with the UNOSAT philosophy of breaking new grounds using technology for novel applications".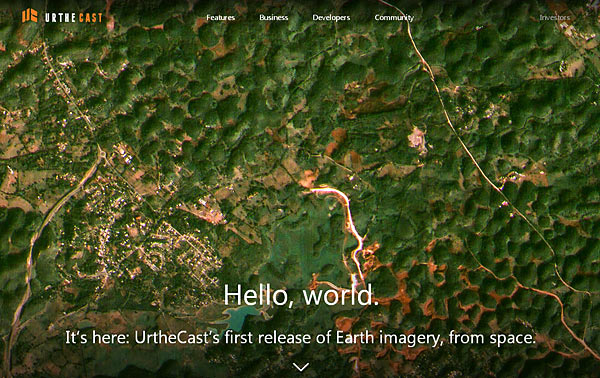 The first image released by the company testifies of the success of the experiment. Captured on March 28, 2014, the image shows the city of Moneague, Jamaica, and is approximately 3200 x 8000 pixels, covering about 300 square kilometers.
UrtheCast says that the camera will continue to capture 6-meter class, 50-km wide swaths of still imagery, which will be made commercially available on the UrtheCast platform. While the images will be made available on an individual basis, they will also be processed and constantly streamed to the UrtheCast platform. "This will be realized on the interactive platform as a near real-time flyover view of the planet directly below the ISS as it orbits the globe 16 times every day" according to UrtheCast.
But there is much more to come. UrtheCast is preparing to unveil its full color, Ultra HD Earth video from space, made possible by a video camera installed on the body of the International Space Station.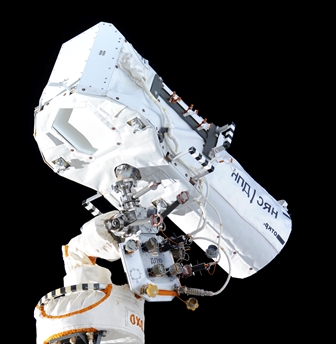 UNOSAT is planning to use video footage from space to boost its analytical capabilities. Einar Bjorgo who manages UNOSAT says: "this is all new and exciting, it didn't exist before. If an image is worth one thousand words, what will a live video be worth?" According to UNOSAT, live video can be useful as a sneak preview of situations unfolding in remote areas before deciding to task additional satellite imagery sources. This has potential particularly for mapping floods, landslides and similar disasters.
Photos: above, the first image taken from the fixed camera. Below, the moving HD video camera being tested aborad ISS (credit UrtheCast).